Reality TV dating shows have experimented with so many formats; blind dating, sexless relationship building, marriage simulations, and 'Big Brother' style dating.
What shows like 'Married At First Sight', 'The Ultimatum', and 'Love Is Blind' have not explored yet is queer relationships among members of the LGBTQ+ community. Until now, that is.
In conversation with Variety, creator of 'The Ultimatum' Chris Coelen discussed season two of the absolute treasure of a show that was released last April, in which the cast will be made up of a mostly queer females.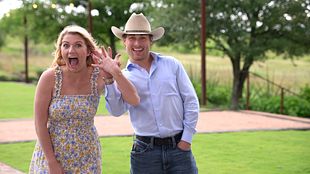 And to be honest, it's about damn time. For a few years now, fans of reality dating shows ('Love Island' we're looking at you) have called for diversity on these kinds of shows, including LGBTQ+ representation.
While the discussion usually focuses on the "difficulties" of such a format, MTV pioneered this kind of inclusion on their show 'Are You The One?' in 2019, and not only did it work, it was utter reality TV magic. If you haven't watched it, stop what you're doing, watch it, and thank us later.
Not only have Coelen and the team at Kinetic Content "figured out how to do it", but they're also considering how to adapt other shows like 'Married at First Sight' and 'Love is Blind' to represent queer romance.
Of the decision, Coelen shares "To me, the opportunity to tell lots of stories from lots of different people is really exciting and it's less so about the particular format that we tell those stories in and more about the fact that we're telling those stories".
We're not sure when we're getting the second season of 'The Ultimatum', but Coelen is confident we're going to love it, "It's really exciting. I am deep, deep into post [production] on the show now, and it's great".
Catch up on 'The Ultimatum' season one on Netflix.