For readers of a certain vintage, a strong Irish performance at the Eurovision Song Contest was agiven.
The 1990s alone saw Ireland win the competition a remarkable four times in seven years, with our 7 total Eurovision wins still unmatched across the continent.
Ireland's last truly great Eurovision entry came this week in 1997, when singer-songwriter Marc Roberts finished in 2nd place with his track 'Mysterious Woman'.
Roberts is still active in the music industry as a singer and writer, and can be heard on Galway Bay FM.
The Eurovision runner-up chatted to us about his journey to the biggest stage in European music.
The Mystery of Mysterious Woman
It is late March when we chat to Roberts.
"I'm expecting to get these calls from journalists now that the anniversary is coming up" he remarks, alluding to the upcoming 25th anniversary of the time he stepped on stage to represent Ireland in front of an audience of hundreds of millions.
Far from being a diva however, we quickly establish a rapport.
Roberts talks at length and with insight about his time in the intense spotlight, and reveals a few home truths about the more commercial side of the contest.
In speaking to him, it is evident that Roberts is a musicians musician, and his path to Eurovision always seemed destined.
Early on in life, Roberts crossed paths with a Eurovision legend.
"For me the Eurovision was always big and I always watched it as a kid," he said.
"I actually ended up becoming very good friends with Johnny Logan! When I was going to school from Crossmalinigh in County Mayo every morning I used to meet this guy who was going to work, I had a guitar with me, every morning he'd go "how ya" after the fact I realised it was Johnny Logan - he was an electrician in the area!"
"When I got to know him I said 'do you remember me? I was the little gobshite with the guitar!' and we've best friends ever since."
This early encounter with a Eurovision icon served as foreshadowing for where Roberts would eventually end up.
By the mid-1990s, Roberts tells us he was already doing well as a singer/songwriter.
He recalls a record company interested in signing him and was regularly touring around Ireland with a full band.
Roberts' had a passion for songwriting, but he quickly pointed out that "not every songwriter can sing!"
Roberts cited the general interest in country music in Ireland in the 1990s as a boon for his career, and this led to his paths crossing with John Farry.
Farry, who is now the manager for country superstar Nathan Carter, expressed interest in writing a song for Roberts, and the pair brainstormed ideas.
The pair conceived a country-tinged song with the intent of eventually sending it to the Eurovision.
While sending a country song to the Eurovision seems unorthodox, Roberts pointed out that most of Ireland's winners weren't traditional Eurovision winners.
"When you think of our winners, they aren't Eurovision songs, my song was a country song with a story to it, and it ended up doing quite well!"
When asked what makes a good Eurovision song, Roberts was adamant; "don't send a Eurovision song to the Eurovision. Send a good song."
Citing Portugal's jazz-tinged win in 2017 or the win by Italian rockers Maneskin last year, more traditional, simple songs have more resonance with the audience than something bombastic according to Roberts.
Citing Ireland's recent Eurovision woes, Roberts identified the age-old problem of the song not suiting the singer.
"We've been culprits for so long of sending people with a good voice, but at the end of the day it's a song contest."
His advice to Ireland's Eurovision contingent? "Send a brilliant song that has nothing to do with Eurovision, and find the person who can interpret."
Roberts spoke highly of Ireland's entrant for this year's contest, 'That's Rich' by Derry artist Brooke.
"I like this year's entry a lot, and I think we have a better chance than we've had in a long time, she's bubbly, cheeky, and best of all she wrote the song."
"By God, we're going to do it again"
Roberts headed into a studio and recorded the song with the title 'European Woman'.
By his own admission, "nothing happened" but Farry and Roberts felt the germ of a great song was there.
"The year after we did another demo of a song called 'Mystery Woman' and we submitted it for Eurosong 97," Roberts recalled, and it was selected as one of the final 8 songs.
"I went back to record company and said I'm gonna do it and didn't think anything of it," he said.
"Before the Eurosong final in Waterford, we changed the song to Mysterious Woman. The idea was to add another half-note to make the song flow better," he explained.
Roberts ended up victor on the night, beating out Gary O'Shaughnessy who eventually represented Ireland in the 2001 edition of the competition.
By 1997, Ireland's reputation as the premiere Eurovision nation was secured, and hopes were high even at the Eurosong stage.
Roberts recalls Pat Kenny saying that on the night there were 8 strong songs, and remarked "by God, we could do it again!"
With his song chosen, Roberts was on his way to represent Ireland at the 1997 Eurovision.
Having won in 1996, Ireland were well-used to hosting the Eurovision, but that didn't stop the preparations from being hectic.
"People don't realise there's so much you have to do," Roberts said.
The general mood was "we can't possibly win again! I remember talking to people in RTE who said "we can't keep the canteen open!" and I was like "what do you want me to do about it?"
Roberts tells of there being an element of pressure should he win the contest for Ireland.
"There was that worry about if we won, what would we do."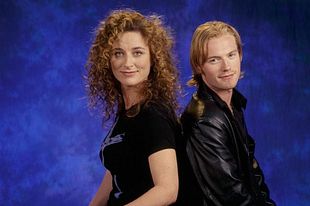 The background noise didn't perturb Roberts too much, however, and he remembers the whirlwind week that lead up to the contest itself.
Of course, being the Irish contestant meant taking part in all the PR and schmoozing that comes with the territory.
"I had to go all the parties to meet the different delegations, but I couldn't have a drink," he said, and in the week leading up to the contest, he was awake at 6 every morning, and didn't make it to bed until 2 the following morning.
"By the time of the performance on Saturday night it was the first time everyone was away from me, and the crowd was crazy!"
Roberts was offered a piece of advice from a backstage crew member just before he walked on.
"I was told to be careful because we're the host, and the place will erupt - and it did!"
Just before heading on stage, the head of the Irish delegation told Roberts "we've been in talks with BBC Northern Ireland and we'll see if can do it with them - go ahead and win it!"
Walking onto stage, Roberts looked into the crowd and saw a veritable who's who of Irish society.
"I looked into crowd and made eye contact with Mary Robinson, I could also see Pat Kenny, Terry Wogan, my family, and Don my manager.
He jokes "at that stage I knew where not to look during the performance!"
"After all these years I can still see the glass steps I had to walk up, I had 59 seconds to walk when the postcard was playing. It was 10 people running on with the grand piano that was used during the performance."
"Dennis Byrne was the floor manager the floor manager on the night and I knew him from when I was on 'The Late Late Show' and the microphone was changed to a Sennheiser one at the last minute, which kind of threw me off."
"And the twelve points from Ireland go to..."
With there being so much pressure and expectation about a strong performance, what did Roberts expect going into the night?
"My biggest fear about the Eurovision final was coming 2nd last and I certainly didn't expect to finish 2nd overall!"
The performance itself went well, and struck a chord with the public and jury.
'Mysterious Woman' received 12 points from our neighbours in the United Kingdom, and scored 10 points from Austria, Denmark, France, Italy, Portugal and Sweden.
"The experience itself was fantastic, and I later found out that 350 million watched it live."
Ireland were 5th up on the night, which meant a long wait in the green room (with one bottle of champagne to share between 10 people, Roberts noted.)
Eurovision voters are well aware of the nerve-wracking voting process, so how does it feel to be in the middle of it?
"The voting started out well for us and the UK, and by the time the 2nd half of the voting had taken place it was between ourselves and Katrina and The Waves.
"There two cameras set up in front of us and we couldn't move - honestly, it was nerve-wracking!"
Katrina and The Waves went on to take the trophy for the United Kingdom with their track 'Love Shine A Light', which represented the UK's last win at the contest to date.
Roberts says he still keeps in touch with Katrina, and is still in touch with Austrian contestant Bettina Soriat who was on stage before him.
While Ireland didn't win that year, the 2nd place finish hasn't been bettered since - a point of pride for Roberts.
"Hand on heart, coming 2nd was the best result I could have had, because the consensus was we couldn't possibly win again!"
In terms of his career, he called the experience "the best calling card for my career."
Roberts still works to this day,
Roberts attempted to represent Ireland again in 2008, which ended up as the year Dustin The Turkey being sent to Belgrade to compete for Ireland.
The singer finished 3rd in the vote that night, but was somewhat resigned to the fact Dustin The Turkey was going to be the contestant picked."
"There was a sense of 'ah, forget it!" when we heard Dustin was going forward.
Roberts forged a strong career after his Eurovision exploits, with the Mayo man ending up writing a series of songs for Daniel O'Donnell and touring with the Donegal icon.
"I wrote a song for Daniel that ended up hitting the top 20 in the UK, so that's something I'm proud of," he noted.
25 years on, Roberts is proud of his experience representing Ireland in the most unique and beloved of singing contests.
Currently in the works on his 7th album, Roberts said the experience was "one of those things you don't forget or expect."
With the 25th anniversary coming up, Roberts plans to remember the occasion.
"Me, John Farry and a bunch of our other music friends actually got together in 2017 to mark the 20th anniversary by watching the Eurovision, so we'll do the same this year with a few drinks."
When Brooke takes to the stage in Turin in a few short weeks, she'll be following in the footsteps of acts before her like Johnny Logan, Linda Martin and Marc Roberts.
You can catch Marc Roberts' show on Galway Bay FM on weekend afternoons. This year's Eurovision Song Contest will take place on Saturday, 14th May.