Following the release of their UK & Ireland No.1 debut album 'It Won't Always Be Like This', Inhaler have announced their biggest hometown show to date at Fairview Park this summer.
The band will embark on a tour of North America in March 2022, before heading on a tour of Europe in April 2022. They will be supported by WetLeg and Irish band NewDad for their Irish gig.
As well as Inhaler, Fairview Park will also play host to Foals, Olivia Rodrigo, Greta Van Fleet, St. Vincent and Primal Scream this coming June.
Inhaler, consisting of singer and guitarist Eli Hewson, bassist Robert Keating, guitarist Josh Jenkinson and drummer Ryan McMahon last year released their highly-anticipated debut album 'It Won't Always Be Like This'. The album went to No.1 in both the UK and Irish album charts.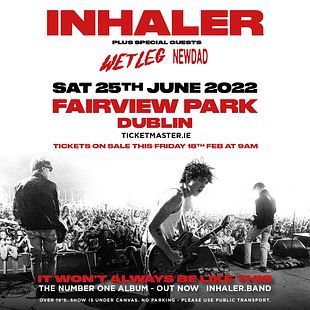 A Covid-enforced delay encouraged the four-piece to find new levels as a band, opening up both their sound and their lyrical themes. Songs about meeting girls turned into reflections on society and how to get through tough periods. "We started writing this when we were teenagers and now we're adults," says Keating. "I wanted the songs to feel positive," adds Hewson. "Because… it won't always be like this."
The album shares its title with one of the group's early singles – a storming, exhilarating singalong of the sort that has become their calling card. But its meaning has changed for the band over the past year, becoming something more hopeful in uncertain times.
"There's a sense of optimism on this album and the song 'It Won't Always Be Like This' is the main catalyst for that," says Hewson. "We kept coming back to that title."
Tickets for Inhaler live at Fairview Park on June 25 go on sale this Friday from 9am. Tickets costs €29.40 and can be bought on ticketmaster.ie