Wider Than Pictures - a series of unique and exciting events at the National Museum of Ireland, Collins Barracks this August - has announced its second show, Fleet Foxes on Sunday 28 August 2022.
The concert follows up on the announcement of Simply Red, who play two days before.
This show will be the first time the band performs songs from its critically acclaimed fourth studio album Shore. It's currently nominated for the 64th GRAMMY Awards in the category of Best Alternative Music Album.
Praised by critics upon release, Shore topped year-end lists securing spots in the top 5 in Uncut, 6Music, Mojo, Uproxx. It also placed on numerous lists including The New Yorker, NPR, Pitchfork, USA Today, Stereogum, Rolling Stone, and more stateside.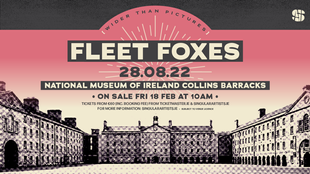 This marks the band's return to live shows since 2018 following its world tour of the album Crack-Up. Robin Pecknold, Skyler Skjelset (multi-instrumentalist, vocals), Casey Wescott (multi-instrumentalist, vocals), Christian Wargo (multi-instrumentalist, vocals), and Morgan Henderson (multi-instrumentalist) will all take to the stage once again.
The Wider Than Pictures series is already shaping up to be an exciting one. Festivals in Ireland are starting to appear in some very unique and beautiful locations. There's no doubt that Collins Barracks will be an unmissable venue to catch a band such as Fleet Foxes perform.
Tickets go on sale on Friday 18 February at 10 am from www.ticketmaster.ie or www.singularartists.ie. Tickets from €60.45 including booking fee.