Call us unpatriotic, but Harry was always our favourite in One Direction. (Sorry, Nialler.)
Zayn may well have had the best voice, but the cheeky-chappiness of Harry – coupled with his interesting fashion choices, his willingness to embrace a more indie/rock 'n' roll vibe, and the sense that he didn't take any part of being in a globally famous boyband too seriously – made him easy to like.
His self-titled solo debut in 2017 also took many by surprise and while it wasn't the finished article, it signalled an artist that had the potential to do big and interesting things under his own banner.
Has he expanded on the themes and sounds explored on that record, or should he be picking up the phone to his 1D bandmates and begging for a reunion ASAP? Only one way to find out...
(He can also rest assured that this album can't possibly be any worse than Liam Payne's.)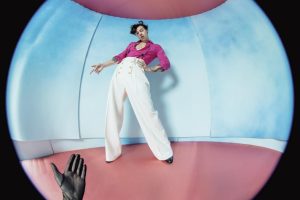 Golden
Well, this sounds perfectly pleasant. A laidback indie-pop song about taking a risk on love ("I know that you're scared 'cos hearts get broke"), it sounds like Harry's been listening to a lot of Fleetwood Mac (well, he has duetted with Stevie Nicks in the past, after all.) It's got a nice pace, lots of melody and backing vocals and does the job as a solid album opener.
Watermelon Sugar
One of the singles that was released a few weeks ago, this strummed guitar intro and groovy little summer number is allllll California. Sure you can practically imagine him strutting around his pool, clicking his fingers, shades on, supermodel on his arm. It certainly doesn't sound like the sound of someone who grew up in a village called Holmes Chapel.
Adore You
We're still on a midtempo pop vibe, although this one takes a somewhat more sombre tone. It's all very understated so far; the soulful little interjections on this song are very Justin Timberlake. You could imagine singing along to this on the radio, no problem. Is it going to change your life, though? Probably not.
Lights Up
The first single taken from the single certainly stopped people in their tracks – us included – in a good way. And not just because the saucy video features lots of half-naked writhing beautiful people. There's a seriously sensual groove to this track that we weren't expecting to hear. The flutter of guitar and trickle of piano are ace. It's just a really good pop song.
Cherry
Not to be continuously drawing comparisons between Harry Styles and his former bandmates, but can you imagine a song like this on Liam Payne's album – where there's so much studio trickery and (literal) knob-twiddling that it's difficult to get to the heart of the song? The simplicity of this acoustic guitar-led track makes it a winner. It's a mournful love song allegedly about his ex-girlfriend Camille Rowe (who provides some French ad libs), with lyrics like: "I notice that there's a piece of you in how I dress / Take it as a compliment" and "Don't you call him what you used to call me". Awww, poor Harry.
Falling
"I'm in my bed, and you're not here / And there's no one to blame but the drink and my wandering hands". Right so, we're clearly in the 'heartbreak' section of the album. A solemn piano ballad dripping in regret, it's the first time that Styles' voice really soars. As lyrics go, it's an honest, well-written pop song that'll probably be sung on The X Factor/Britain's Got Talent/The Voice etc. for years to come.
To Be So Lonely
Another quirky intro, with the Spanish-style flutter of guitar and Styles admitting that he's "just an arrogant son of a bitch who can't say sorry". We'll say one thing for this album – it's certainly not boring when it comes to either themes or the tone. The beat and a double bass line kicks in as he turns his heartbreak into anger: "Don't call me baby again," he warns. "It's hard for me to go home and be so lonely." Someone give this lad a hug.
She
Big Beatles vibe on this one, both in tone and delivery: "Nine in the morning, the man drops his kids off at school / And he's thinking of you, like all of us do." There's a real spacey, slinky '60s/'70s MOR vibe to this track that we were not expecting at all. The magic mushrooms references make sense now. Seriously impressed by this album in general so far.
Sunflower, Vol. 6
Harmonies, indiepop, summery carnival vibe... what's not to like? It's clear that Styles had fun making this album and that's abundantly clear on songs like this – where he's singing about 'kissing in the kitchen and listening to dancehall'. It's pop music, make no mistake - but he's playing around with joyful little quirks here and there. It's great. Great, great, great.
Canyon Moon
We're back to that Californian vibe again, with strummed guitar, harmonies, a brisk beat and a summery '70s sound again. The guitars are very Joni Mitchell. Which is something we never thought we'd say of a Harry Styles album.
Treat People With Kindness
There's always a song with a message - but sure, what harm when it's a message like this? Look, we're gonna be honest. He's won us over completely, at this point. We're now Harry Styles fans. We might even get a tattoo at the weekend. Handclaps, harmonies, this little toe-tappy tune is the very epitome of a feelgood pop song.
Fine Line
The title track (and final track) strips everything away again for a tenderly-sung, softly strummed intro that builds to a nifty marching drum beat and an explosion of brass. Like pretty much everything else on the album, it's going to sound GREAT live.
*
VERDICT: If nothing else, this album has proven that Harry Styles was always 'The One' in 1D. The one with any chance of a career with longevity after they split; the one capable of winning people who'd dismissed him as a teenybopper over; the one with any sense of style, originality or willingness to try something a bit different.
It's a pop album with heart, diversity and no little panache that's aware of its limitations, yet refuses to be hemmed-in by them. Will One Direction fans devoted to the ultra-glossy conveyer belt pop music peddled by the boyband grow with it? Possibly not; acts like Niall Horan are maybe a bit safer. If they don't, however, they're missing a trick. Kudos, Mr. Styles.