So here we are, a whole twenty years after Westlife released their first album.
A lot's happened in between; Ireland's most famous boyband have lost a member (if you say 'Brian McFadden' three times into a mirror at midnight, he'll appear and start singing 'Real to Me' on repeat), split up, had a load of babies and got back together. They've had solo careers, become radio DJs, filed for bankruptcy, written autobiographies, gone into the 'I'm a Celeb' jungle (and won) and more.
Now, after ensuring that they still have an enthusiastic audience with their UK and Irish gigs over the summer, they're back with 'Spectrum' – their 13th studio album.
What are we expecting from this album? I'll hold my hands up and admit that I bought those CD singles like any respectable teenybopper in the late 1990s/early 2000s. Do I have any interest whatsoever in Westlife these days? That'd be a big fat nope. While I happily toddled off to see Spice Girls at Croke Park over the summer, not even the sickly-sweet pull of nostalgia could nudge me through the gates for Westlife. And although you might grudgingly tap your foot along to 'World of Our Own' if it came on the radio, you'd feel a bit embarrassed about it. My complicated feelings about Westlife can be summed us thusly: the majority of their songs really haven't aged well, have they?
That said, I'm nothing if not professional so I'll listen to this album with open ears and an open mind. Really, I will.
Let's go....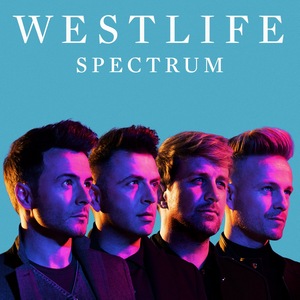 1. 'Hello My Love'
There's a bit of a Bruno Mars 'Just the Way You Are' vibe to this one, musically. One of five songs on the album co-written by Ed Sheeran, it sees Shane Filan (and later, Mark Feehily) sing about how amazing the object of his affection is for putting up with him, with lines like "You could have someone without a belly or a temper". Hang on, are we really expected to believe that any of Westlife have 'bellies'? They may not have Louis Walsh cracking the whip anymore, but they're all 100% in the gym 5 days a week. Alright, this song is basically the musical equivalent of buying your wife a bunch of flowers after an argument (that you caused.)
2. 'Better Man'
Another Sheeran co-write, this time a finger-clicking piano ballad. Again, vocals shared by Filan and Feehily (poor Nicky and Kian. Twenty years of this shit, lads, amirite?) "Darling, just give me just one more chance / I'll give you everything I have" is standard Westlife (and Sheeran) schmaltzy fare, but things get a bit risque when Feehily starts singing about how he "felt things when we were naked". TMI, fellas.
3. 'My Blood'
You can tell Westlife's fanbase has shifted; they're now writing songs about their kids instead of their wives/girlfriends/boyfriends. This wee tearjerker, another piano-led ballad with a beat, sees Filan and Feehily sing about the importance of learning to stand on your own feet, even when daddy's not around to help. Nawwww.
4. 'Dynamite'
Hurrah, we've moved away from the stool-perching ballads – at least for now. This is a punchy little number (again, co-written by Sheeran) that gives a dose of much-needed energy to proceedings. In a way, it sounds like a remix of a Westlife song – which is no bad thing. And Kian even gets to sing a bit, bless. Although his voice sounds processed beyond belief. We'll let him have his 10 seconds in the spotlight, though.
5. 'Dance'
Ooh, they haven't returned to the stools – they're still standing. With a title like 'Dance', you'd expect as much. This is a seriously slick, very Americanised version of Westlife, but we kinda like it (it was co-written by Ryan Tedder, which explains that.) I mean, it's indistinguishable from a lot of other AutoTuned modern pop, but there's a sense of fun about it.
6. 'One Last Time'
Back to fairly dreary midtempo pop balladry here (courtesy of... you guessed it – Ed Sheeran). This is about as bogstandard as it comes with miserable lyrics ('Why can't you open your ears and see the tears in mine' did cause us to laugh out loud) and sweeping strings in the background. This, kids, is what you call 'filler'. Ah lads, get Ryan Tedder back in....
7. 'Take Me There'
If you heard Mark Feehily's solo album, this song would have slotted in nicely – which makes sense, given that he co-wrote this tune. A synthpoppy number with a rousing chorus of 'ooooohhhh ohhhhhhh OOOOOOOOoooohs', it's more in line with the earlier 'Dynamite'. You can imagine hearing this in a bar on holiday in Marbella and thinking 'That sounds a bit like Westl... nahhhh.'
8. 'Repair'
This one was co-written by none other than James Bay (of 'Hold Back the River' fame) – with lines like 'When your head is broken, take my shoulder and hide your worries there', that makes perfect sense. It's a cheesy midtempo, string-laden number with a beat. It's grand.
9. 'Without You'
Another co-written by Bay, Filan and Egan take the lead on this bumbling little guitar-led number, which launches into a cantering pace not unlike the aforementioned 'Hold Back the River - but Feehily shows them how it's done. To be fair, it's achingly apparently on this album that he is clearly the best singer in the group, and always has been.
10. 'L.O.V.E.'
What is this dinky little number that sounds like it may have been written on a Fisher Price toy keyboard? No, it's not a cover of the Al Green classic. But yes, it's a song about... umm... well, love. Westlife singing about love? That's original. 'You're scared that you're fallin' / But the truth is you're all in' – yikes. Not sure about that one, lads.
11. 'Another Life'
A softly-strummed acoustic singalong to end on. All four singers get a chance to sing a few lines on this number, which is exactly what you'd expect of a Westlife song – wishing that they'd taken the chance to tell the person how they feel, blah blah blah. It's pretty dull, to be honest.
*
THE VERDICT: It's perfectly understandable that Westlife have to cater to their established audience – the fans who have made them stars love those ballads, after all. The most striking thing about this album is how well those more energetic tunes like 'Dynamite' and 'Dance' serve their voices; they're undoubtedly the best songs here and without them, it'd be a fairly dull listen. Bringing Ed Sheeran and hugely successful pop writer/producer Steve Mac in to provide several songs made no difference whatsoever, either – it's generally a very safe album.
Will it make a Westlife fan out of the uninitiated? Definitely not. Will fans be happy to have them back? Undoubtedly.