You might describe our feelings toward Justin Bieber as 'complicated'.
We were too old (far too old) to appreciate his tween appeal and songs like 'Baby' provoked a reaction somewhere between bemusement, irritation and apathy. Then came the cliched 'bad boy' phase where we went off the rails, got lots of tattoos, did drugs and was arrested a couple of times.
After that, Bieber reinvented himself, started working with some interesting people and turned out the odd decent pop song like 'Sorry' and 'What Do You Mean?'
So here we are, five years after 'Purpose' – can he win us over once and for all with fifth album 'Changes'? Let's see, shall we?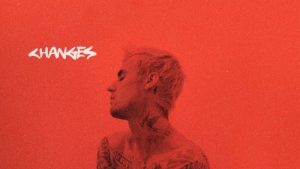 All Around Me
It looks like Biebs is starting as he means to go on; he did warn fans that most of this album was about his new wife, Hailey. With lyrics like "I need you all around me, wouldn't wanna be in any other place / From my home to the road, I'll make sure you're comfortable" set against a glistening guitar riff, his soulful voice takes front-and-centre.
Habitual
Another softly-sung, smooth r'n'b number with Bieber doing his best to seduce the object of his affection with more professions of love.
Lads, I know it's Valentine's Day but I don't know if I can take a whole album of soppy love songs.
Come Around Me
We're still on that smooth r'n'b tip. Yep, still. We will admit that Bieber's voice sounds good, at least. This song is about the Bold Thing. "When you come around me, do me like you miss me / Even though you've been with me" and 'When I rise up, baby don't shy up / Open your mind, don't knock it til you try it, darlin'". I thought he was a Christian! Justin, your mam is probably listening to this.
Intentions (feat. Quavo)
Rapper Quavo from Migos features on this track, which has a bit more of a beat. But guess what? It's another song about how great his missus is... AND her parents! "Shout out to your mom and dad for making you / They did a great job raising you". Talk about laying it on thick! The song itself? Sure it's grand. Easygoing and upbeat. Grand.
Yummy
The first single released from the album, so you may have heard it already. We now know that it set the tone for the rest of the album: laidback, evenly-paced r'n'b that's perfectly fine to listen to. Fluffy music with meaningless lyrics. It kind of sounds like Bieber is going for a Frank Ocean vibe, but it's a bit too safe. So far.
Available
Another sultry love song with a clipped beat, Bieber wants the objection of his affection to come over, because he's available. Available for what? Well, you can guess what. "Hurry up and get here now,' he croons, "but don't speed". Safety first. Always safety first.
So far, the album is pretty musically reserved; there are no big EDM-style bangers or anything brisker than a moderate tempo. Which is surprising.
Forever (feat. Post Malone & Clever)
We take it back! This is a little bit louder, more dynamic, and just has a bit more energy. It's safe to say that Bieber has well and truly moved away from the pop world with this album, with guest turns from rappers Post Malone and Clever on this song alone.
Running Over (feat. Lil Dicky)
Another r'n'b number with a similar beat, melody and tone to several we've heard already, and another guest rapper. This is starting to get a little bit drab. We're champing at the bit for something a bit risky or experimental, but nothing's happening.
Take It Out on Me
Okay, this is a bit better. Same tempo, but there's a bit of grime underneath the fingernails of this track - in a production sense, at least. Bieber is telling his lady that he'll "be [her] punching bag" and that she can "take it out on him".
Second Emotion (feat. Travis Scott)
One of the bigger tracks on the album, simply because Travis Scott features on it. Bieber shows off his own vocal flow on this album, which makes a change from the OTT schmoozing. Scott's verse, meanwhile, is perfectly serviceable. With a booming bassline, it's one of the better songs so far, for sure.
Get Me (feat. Kehlani)
American singer Kehlani features on this song – finally, a female voice in the mix! Her voice works well against Bieber's on this duet, although the song itself is pretty uninspiring. One thing's clear, though - he should have put more female voices on this album, rather than one rapper after another.
E.T.A.
Guitar?! Well, this is unexpected. A sweetly-crooned soulful number led by a simple electric guitar riff, this song is a bit of a throwback to the 1990s (although lines like "Drop a pin for me now, so I can learn your location" give it away). Bieber will never be the best lyricist in the world, but it's definitely an improvement on the unrelenting schmooze.
Changes
At 17 tracks and 51 minutes long, this is a long album anyway. And it's starting to feel lonnnnng. 13 tracks in, he's still locked in his love bubble and refusing to come out. As an acoustic guitar twangs in the background, he sings about how he's 'going through changes' inspired by his missus, with a shout-out to God at the end.
Confirmation
Finger clicks, the tinkle of a piano and smooth vocals on the menu again, as Bieber urges his lover to slow down and take her time on rushing things along; "We got the rest of our lives", he sings. "Quit acting like we're in a race."
That's What Love Is
A sweet little fingerpicked guitar riff leads the way on this simple acoustic pop song, which is... yes... another... love... song. "I reach out to you, but my hands can't hold enough of your greatness / You teach me patience, like the best of our worlds collide," he says. For Christ's sake, even Hailey must be rolling her eyes at this point.
At Least for Now
Staying on the stripped-back vibe, with just Bieber's voice over a piano riff and faint studio effects. It's an understated way to end an album (there's an unnecessary bonus track of a 'Yummy' remix on the streaming and digital versions) as it peters out.
*
Verdict: Well, Justin Bieber is in love and he wants EVERYONE to know it. Nothing wrong with that; some of the best albums of all time have been about falling in love. We're surprised at how low-key this album is; we expected at least one or two big pop belters, but it's all very similar in tone. On one hand, it undoubtedly makes for a cohesive collection of songs. On the other, it's all a bit samey after a while. Call us cynical, but there's only so many overblown professions of love that we can take in soulful song form (or 'sooOOOUUUlful sonnngggggGGGggGG fooooooorm-ah' as Bieber is more likely to sing.
In short, there's nothing really wrong with this album - it's just a bit... safe.