Marvel Studios' first official forray into horror is a fun, bloody romp.
'Werewolf by Night' introduces Jack Russell AKA Werewolf (Gael García Bernal) into the Marvel Cinematic Universe, a man who is invited to a special event at the remote Bloodstone Manor by a woman named Verusa (Harriet Sansom Harris). Joined by a collection of other monster hunters (including Laura Donnelly as Elsa Bloodstone), the barbaric attendees are invited to track down a mysterious being and win the enchanting prize of the night.
To date, Marvel Studios and horror haven't really crossed paths. 'WandaVision', which lead directly into 'Doctor Strange in the Multiverse of Madness', were the closest we got to the typically PG superheroes leaning into the darkness. The latter had sprinklings of horror because it was helmed by 'Evil Dead' director Sam Raimi, and Elizabeth Olsen's Wanda finally turned into the nefarious Scarlet Witch (who just wanted her damn children). Marvel has been tip-toeing around the horror genre, but they have yet to fully embrace it from beginning to end. What we have in 'Werewolf at Night', then, is not a typical horror. But a campy, throwback horror? Sure.
It's close, certainly the franchise's closest yet to the genre, but it's not the all-out horror we were hoping for. A "fantastical mystery" would be better. Some early reactions to the special Marvel event touted a "through and through" horror experience so maybe we were expecting a little more than what we actually got.
Having said that, 'Werewolf by Night' is a lot of fun. Like, bloody good fun. In fact, we'd even go out on a limb to say it's our favourite Marvel release of the year so far (but we are loving the carefree 'She-Hulk' too) - and we fully expect 'Black Panther: Wakanda Forever' to come out on top in November.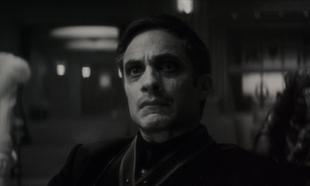 What's great about 'Werewolf By Night' is that it's a self-contained special, so you can watch with zero knowledge of any other Marvel release. It introduces two new well-known Marvel Comics characters in Jack Russell and Elsa Bloodstone, and chances are they'll both appear somewhere else down the Marvel line (Mahershala Ali's 'Blade' being the obvious choice). Bernal's Jack is a likeable soul with a lot of depth, but it's Donnelly's Elsa who shines brightest here with her nonchalant attitude and impenetrable nature.
It's novel to see a Marvel production not get bogged down with having to make references to something else Marvel-related, and leaves the door open to other unique takes such as this in the future. It also means that 'Werewolf by Night' distances itself away from everything else that's come before, with a healthy splattering of blood and discarded limbs painting the screen. Marvel Studios is finally experimenting.
Stylistically speaking, having 99% of the episode in black and white is an obvious callback to old horror spectacles from the 1930s and 1940s such as 'Dr. Jekyll and Mr. Hyde' and 'Werewolf of London', and first-time director Michael Giacchino has listed these titles as major influences. There is, however, a glaring reason as to why this approach was used; when the title character eventually comes on the screen, he looks... unfinished? A little tattered? Because he moves so fast, it's difficult to get a good look at him. Hopefully, his next appearance won't be so fleeting.
Having a mysterious Marvel character in our midst is a technique we rarely get to see in this universe, so we're hungry for more.
Watch the special on Disney+ from Friday, October 7.