It's summer solstice week, meaning we're at the height of sunny season here on our lovely island.
But as we know, it's not all sunshine and rainbows. Sometimes, we get a bit of a washout where all we want to do is stay in and stick on a film. Luckily, for those exact instances, we have the list for you!
So get yourself an iced beverage, stick on the fan and get comfortable. These are our top 10 summery, sun-soaked movies picks.
1. 'Stand By Me'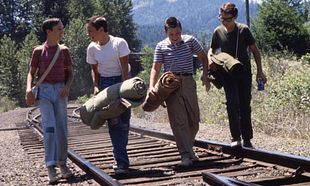 Starting strong with perhaps the ultimate 'coming-of-age' film on this list, although there are many. This 1986 film was based off the short story 'The Body' by horror writer Stephen King. King's mastery of illustrating childhood memories is second to none and Rob Reiner was able to bottle that magic and put it on screen.
Starring a dream-team of child actors including Will Wheaton, River Phoenix, Corey Feldman and Jerry O'Connell, 'Stand By Me' follows a gang of young lads who go in search of the body of a missing boy from their town.
So much inspiration has been taken from 'Stand By Me' over the years that, if you haven't yet seen it, you'll be constantly pointing at your screen saying "that's what that comes from!"
2. 'Wet Hot American Summer'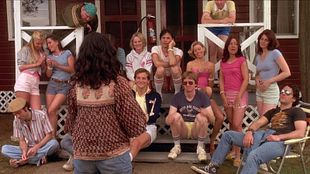 One of the more underrated comedies of the last few decades, 2001's 'Wet Hot American Summer' boasts an incredible cast of actors in their early days. Amy Poehler, Paul Rudd, Bradley Cooper, Elizabeth Banks, Joe LeTruglio, Molly Shannon, Christopher Meloni and Ken Marino all feature as baby-faced camp counsellors - Yeah, we told you there were a lot.
Written by Michael Showalter, this goofy, self-aware comedy has a massive cult following and has led to two comeback Netflix series - a prequel (starring the same cast twenty years later as their younger selves) in 2015 and a sequel in 2017. It's over-the-top, at times outright ridiculous and endless fun. Exactly what we want in a summer movie.
3. 'Do the Right Thing'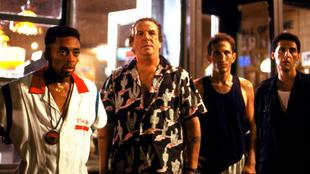 Set during the hottest day of the year, Spike Lee's 'Do the Right Thing' is a masterclass in using the weather as a plot device. The heat in the 1989 film represents the simmering racial tension throughout Brooklyn that soon escalates into violence.
Lee's film retains its classic stature to this day and is regularly listed as one of the best films of the era. The plot centres on Sal Fragione's pizza parlor in the Bedford-Stuyvesant district of Brooklyn. Since opening 25 years prior, the neighbourhood around the parlor has changed significantly, with most of the residents now African-American and Hispanic.
The agitation in the area rises with the temperatures and violence ultimately ensues. 'Do the Right Thing' is a summer movie like no other, and is one of Lee's first films, propping him up on his journey to directing legend.
4. 'Dazed and Confused'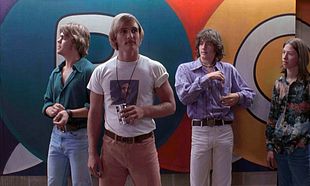 Alright, alright, alright. Nothing portrays the 70's quite like 'Dazed and Confused'. Richard Linklater's cult classic is a haze of high-school politics and coming-of-age realness. Carried by one of the best soundtracks of all time, this 1993 film captures an era with authentic simplicity. Not much happens, and that's the real point of the film.
Set over one day, the film interlinks characters from different peer groups on the last day of high school before summer. It's a medley of teenage life in mid-70's, cruising in cars, chasing love and looking for parties. There's no high-stakes, no crazy drama, it's simply a window into life at the time.
5. 'Palm Springs'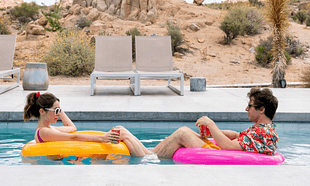 Sometimes, an endless summer isn't the dream it may seem. For Andy Samberg in 'Palm Springs', who is trapped in a groundhog-day reality, summer has become a nightmare. When Cristin Milioti's character Sarah meets Samberg's Nyles at her sister's wedding, they really hit it off, however Sarah soon falls into the same trap and they must figure out how to get their way out of an infinite time loop.
The beauty of 'Palm Springs' is that it doesn't stick to one genre. It blends comedy, drama, sci-fi and romance all into one. The openness of the plot plays brilliantly into Samberg and Milioti's hands, as their wide range of acting is explored throughout the film. You'll laugh, you'll cry, you'll be horrified.
The supporting characters are all excellent. The plot is snappy and smart, not giving too much away but also not boring you with the time-loop crutch. All of this is done through a laid-back, summery tone that would make you wanna float in a pool, sipping a cold one for infinity.
'Palm Springs' is available to watch on Prime Video.
6. 'Jaws'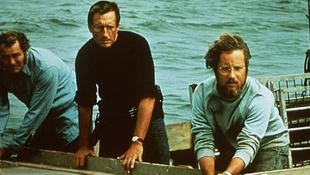 Steven Spielberg's iconic thriller starring a big ol' shark is rightly considered one of the best movies ever made. It's also an excellent summertime flick. Set on the sandy beaches of resort town Amity Island, 'Jaws' follows a police chief and his ongoing battle to protect the community from a rampaging Great White.
'Jaws' is a must-see in almost any movie-lover's opinion and rightfully so. The iconic John Williams score, the incredible use of prosthetics, the genius levels of tension. Next time your sunning yourself at the beach, you might think twice before taking a dip...
7. 'Adventureland'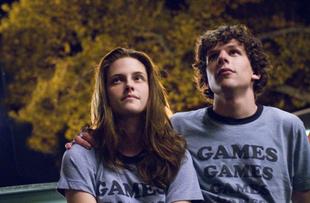 In a follow-up to the hugely successful 'Superbad', Greg Mottola directed this much more understated and sincere dramedy that is not only laugh-out-loud funny but also pulls at the heartstrings.
The plot follows Jesse Eisenberg's James as he spends his summer working in a shitty amusement park filled with half working rides and an unmotivated staff. There, he meets and falls in love with Em, played by Kristen Stewart.
The awkward and clunky way James goes about his love life will pull a chord with almost everyone who went through a teenage summer romance and Mottolla excellent portrays what it's like to go through that time in one's life. 'Adventureland' is a seriously sweet and slept-on summer movie that deserves to be more than an afterthought to 'Superbad'.
8. 'Midsommar'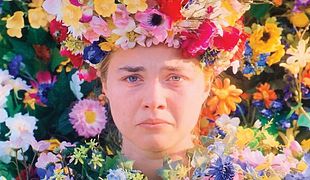 Summer is a diverse prism to funnel movies through and this unsettling daylight horror from Ari Aster is about as good an example as one could find.
Florence Pugh and Jack Reynor star as Dani and Christian, a couple on the verge of a breakup when Dani experiences extreme familial trauma. The two travel to Sweden to a pagan midsummer celebration which soon devolves into a murderous cult-like bloodbath.
Right off the back of Aster's hugely successful 'Hereditary', 'Midsommer' brings a different, but no less creepy, vibe. It shows that horror doesn't always have to be moonlight and shadows. Sometimes true horror is right out in the open, under the summer sun.
You can watch 'Midsommer' on Netflix.
9. 'Mamma Mia!'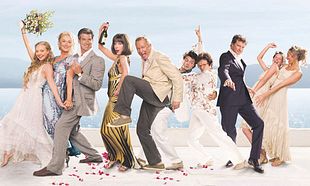 Yes, you knew it was coming. Nothing says summer like a sun-soaked, boozy musical exclusively featuring Abba songs. The film starring Meryl Streep, Amanda Seyfried, Colin Firth and Peirce Brosnan is an absolute classic which re-ignited an obsession for the musical and the music of the Swedish pop group.
The film may not be an incredible acting showcase, but the sheer fun that the cast seem to be having on screen and the absolute bops including 'Dancing Queen' and 'Lay All Your Love On Me' will make you soon forget all that and just enjoy it for what it is: a summery mood-booster of a movie.
10. 'Once Upon a Time in Hollywood'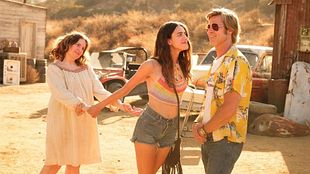 The summer of '69 - a era-defining time in the US. Quentin Tarantino shoved as much glittering nostalgia into what is essentially a love letter to that time. 90% of the movie is pure vibes with a bit of extreme violence dotted here and there.
Starring Leonardo DiCaprio and Brad Pitt, the film explores the relationship of a struggling former acting star and his stunt double. All of this is set against the backdrop of late 60's Hollywood and the Manson Family murders of Sharon Tate.
Tarantino has his critics and his films certainly aren't for everyone. 'One Upon a Time...' is just as divisive. But for some, it's his best work yet. Either way, it's definitely worth giving a go, if not for that driving scene alone. Sit back, relax, and, in the words of Cliff Booth, "awaaaaay we go."
For more movie recommendations, news and reviews, check out our website here.