As we eagerly await the arrival of the brand new trailer for the film later today, it has been announced that 'No Way Home' will release two days ahead of schedule in Europe.
'Spider-Man: No Way Home' has had its release date moved up in Europe, including Ireland and the UK.
Originally due for release on December 17, the Sony blockbuster has been moved up two days ahead of schedule and will now arrive in cinemas on Wednesday, December 15. The film will still release in North America on its original date.
This week (heck, this year) has seen a flurry of anticipation surrounding the film, as Sony and Marvel gear up for the release of the second trailer. The new trailer for the film is expected to be unleashed later today, but for now, we have a brand new poster featuring the wall-climber and his magical colleague, Doctor Strange.
Here's the new 'Spider-Man: No Way Home' poster with its new release date.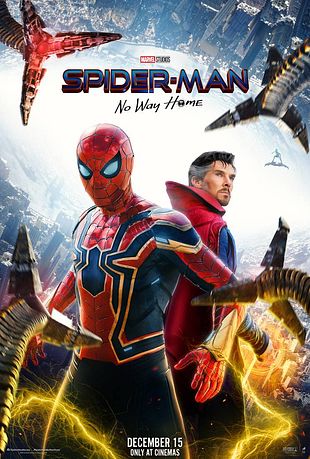 Tom Holland, Benedict Cumberbatch, Zendaya, Jon Favreau, Jacob Batalon and Marisa Tomei will all return for the superhero sequel, which will pry the MCU Multiverse wide open.
From what we know so far, past 'Spider-Man' baddies will return for an epic showdown, which will potentially (most likely definitely) see the re-introduction of two former Spider-Man iterations. Yes, it is always all but confirmed that Tobey Maguire and Andrew Garfield will be back as their respective Spider-Men.
Ahead of the second trailer's release in the next few hours, Sony teased a video that sees Holland, Zendaya and Batalon watching and reacting to the new trailer.
The official synopsis for the film is as follows: For the first time in the cinematic history of Spider-Man, our friendly neighbourhood hero is unmasked and no longer able to separate his normal life from the high-stakes of being a Super Hero. When he asks for help from Doctor Strange the stakes become even more dangerous, forcing him to discover what it truly means to be Spider-Man.
And so now we just patiently wait until it all gets revealed later today...
'Spider-Man: No Way Home' will be released in Ireland on December 15, 2021.