Spider-Man is swinging his way to the bank with his latest movie 'No Way Home'.
Spidey has overtaken James Cameron's sci-fi flick 'Avatar' at the all-time American box office, with 'No Way Home' now totalling $760 million for the web-slingers latest outing.
This lands the film in 3rd place at the all-time American box office, with only fellow Marvel film 'Avengers: Endgame' in 2nd place at $858 million and the all-time champion 'Star Wars: The Force Awakens' sitting pretty at $936 million.
Adjusted for inflation, the Tom Holland and Zendaya-starring movie is the 24th biggest film of all time at the box office, just above 1940's 'Fantasia' which made $759 million adjusted for inflation, and $20 million shy of nearest rival 'The Graduate' which made $782 million adjusted for inflation.
For further adjusted for inflation nerdy goodness, check out this BoxOfficeMojo list - yes, 'The Exorcist' made $1 billion dollars in the United States alone when adjusted for inflation.
In terms of worldwide gross, the film is in 6th place behind 'Avengers: Infinity War', with its total standing a whopping $1.8 billion.
Only 5 films have ever cracked the $2 billion mark at the global box office, and it appears that not even Spider-Man himself can make 2 billion by himself.
Despite that, 'No Way Home' performed way above industry expectations, and showed that nostalgia is a potent force at the box office.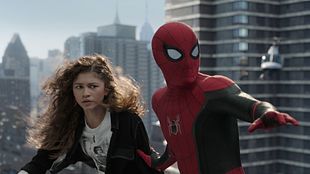 'Spider-Man' is an incredibly lucrative property for both Sony and Marvel, with Sony standing to make at least $500 million thanks to the success of the film and partial ownership of the franchise.
Despite being released in Mid-December, the film was the 2nd most successful film in Ireland in 2021, with the film raking in €4.4 million Euro in the final two weeks of December alone.
In both the UK and Ireland, the film stalled behind the box office gross for the final Daniel Craig James Bond film, 'No Time To Die', which outgrossed 'Spider-Man' to the tune of £5 million.
The trilogy director Jon Watts seemingly has carte blanche to do as he sees fit, with the director tapped to produce a remake of 'Final Destination' for HBO Max.
On the director front, fans of James Cameron are probably aware that the 'Titanic' and 'Aliens' helmer was actively looking to direct a 'Spider-Man' film in the 1990s, with Leonardo DiCaprio playing Peter Parker.
The proposed adaptation never made it off the ground, but Cameron and DiCaprio did make a little film called 'Titanic' instead.
Meanwhile, Benedict Cumberbatch, co-lead of 'No Way Home', will be next seen on our screens as Doctor Strange in 'The Multiverse Of Madness' with the original 'Spider-Man' director Sam Raimi helming the latest Marvel flick.