The erotic thriller is all but gone from Hollywood these days.
Even Ben Affleck and Ana De Armas couldn't save it in 'Deep Water' this year, despite their best efforts.
The scene is so stale, that even 'Basic Instinct' and 'Showgirls' director Paul Verhoeven has stated his frustration with the lack of sex in movies these days.
"Sexuality has been moved out of movies," said the 83-year-old in an interview with The Times. "In the 1970s you could talk about it. But you arrive now, decades later, and those movies are not possible anymore. It would be very difficult to make a film like 'Showgirls' or 'Basic Instinct' now."
The Dutch director went on to specifically call out franchises like the MCU and James Bond.
"It's about crashing and blowing up. Sometimes these movies are fun, but the narrative tells you nothing about us now. I don't see any other thought in Marvel or Bond movies."
"There was always sex in Bond!" Verhoeven continued. "They did not show a breast, or whatever. But they had some sex."
Verhoeven did admit to liking 'Casino Royal' however, which did feature a steamy scene involved Daniel Craig's Bond and Eva Green's character. The franchise went relatively tame in terms of sex scenes after.
What would his advice to future Bond directors? "I'd go back to reality."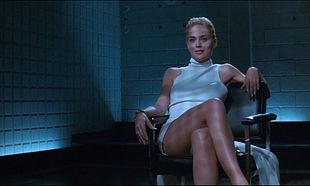 Verhoeven's steamiest flick 'Basic Instinct' celebrates it's 30 year anniversary this year. The movie contains one of Hollywood's most infamous scenes featuring Sharon Stone and her crossed legs.
Verhoeven's newest film 'Benedetta' about a love affair between two 17th century nuns released in the US last year. The film drew controversy due to it's graphic sexual scenes.
'Benedetta' releases in Irish cinemeas on Friday, April 15.