Dutch director Paul Verhoeven, the provocative Dutch director who gave us hits like 'Robocop', 'Basic Instinct' and 'Starship Troopers' is back with another controversial film.
'Benedetta' tells the story of a nun in 17th century Italy who causes a scandal when she begins a love affair with another nun in the convent.
The film is a loose retelling of the real-life nun Benedetta Carlini who was eventually arrested and imprisoned for the affair.
'Benedetta' is the first film for Verhoeven since 2016's Oscar-nominated 'Elle', and sees the veteran Dutch director explore one of his favourite topics - the role of organised religion.
The film is getting an Irish and UK cinema release on April 15th and will be added to the streaming service MUBI on July 1st.
'Benedetta' has been banned in Singapore for its perceived explicit content, and the film drew protesters outside showings when it was shown in New York City last winter.
MUBI has developed a reputation for picking up films by cult European filmmakers for Irish cinema releases, most notably Leo Carax's fever dream musical 'Annette' and Luca Guadagino's 'Suspiria' remake in 2018.
Outside of his career of directing action classics such as 'Robocop', 'Starship Troopers' and 'Total Recall', the Dutch director is considered one of the worlds leading academic experts on Jesus Christ.
Verhoeven nearly reunited with 'Total Recall' star Arnold Schwarzenegger for a big-budget film about The Crusades in the 1990s, but the film ultimately collapsed over budgetary concerns.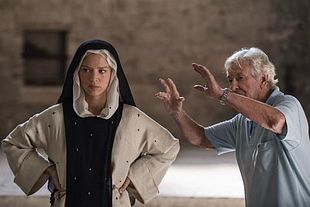 Verhoeven, who turns 84 later this year, is showing no signs of slowing down.
The Dutchman is returning to the thriller sphere with a political thriller from the writer of 'Robocop', with the film's plot said to follow "a young staffer who works for a powerful Senator who is drawn into a web of international intrigue and danger".
'Benedetta' was scheduled for release in 2020 with the film slated to debut at that year's Cannes Film Festival, but the film was pushed due to the Covid-19 pandemic.
The film eventually saw release in the United States and Europe last year and received decent reviews, but the film has eluded Irish and UK audiences until now.