There's been a murder - and everyone's the suspect.
The very first and official trailer for 'Glass Onion: A Knives Out Mystery' has landed, teasing a dark and even more dramatic follow-up to the mega-hit from Rian Johnson.
The new mystery will be keeping us warm this festive season, with Daniel Craig once again returning to our screens as southern accented Detective Benoit Blanc who is going to be eyeing up all of the dastardly suspects on what looks to be a voyage that they'll never forget.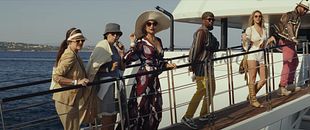 All of the suspects will be played by Edward Norton, Janelle Monáe, Kathryn Hahn, Leslie Odom Jr., Jessica Henwick, Madelyn Cline, Kate Hudson and Dave Bautista *cue shifty looks to camera*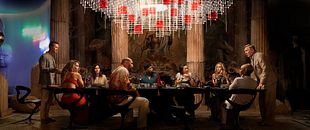 You're invited to put the pieces together. In the follow-up to Rian Johnson's 'Knives Out', Detective Benoit Blanc travels to Greece to peel back the layers of a mystery involving a new cast of colourful suspects.
Here's the trailer.
Johnson said that this time around we're going to get to know the Southern sleuth a bit better with the story being from his perspective: "In this one, Blanc gets an invitation to come to this murder mystery on this island. We're very much meeting these people and getting into this world through his eyes."
He also opened up about the origin of the film's title: "I'm always fishing for something fun that Blanc can grab onto as an overwrought metaphor that he can beat to death," he says. "This is all in plain sight from the very start. So, the idea of glass came to me, something that's clear. I'll be very honest. I literally got out my iPhone and searched my music library with the word 'glass'."
'Glass Onion: A Knives Out Mystery' will be released on Netflix on December 23. There will be a theatrical release in cinemas at the beginning of December.