'Glass Onion: A Knives Out Mystery' will be getting a theatrical release before it hits Netflix this December.
Daniel Craig's Detective Benoit Blanc is standing at the head of a very familiar-looking table in the first cast picture released for the new 'Knives Out' mystery film entitled 'Glass Onion'.
Giving off strong The Last Supper vibes, the incredible cast of Craig, Edward Norton, Janelle Monáe, Kathryn Hahn, Leslie Odom Jr., Jessica Henwick, Madelyn Cline, Kate Hudson and Dave Bautista are all either seated or standing around a long table looking in total shock. No doubt someone's been murdered.
Here's the first official picture featuring the cast.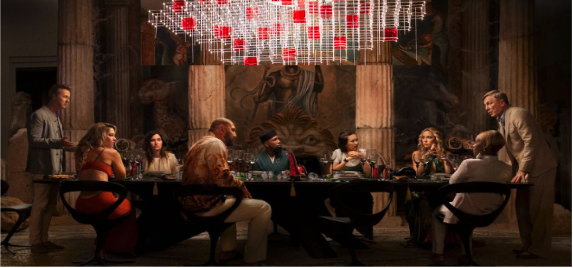 This time around, Detective Benoit Blanc will to Greece to peel back the layers (geddit!?) of a brand new mystery involving a cast of colourful suspects who each claim to be innocent.
Returning director Rian Johnson, who helmed the mega-successful first film starring Ana de Armas, Chris Evans, Jamie Lee Curtis and Toni Collette, said that the title for this follow-up is yet another "overwrought metaphor" that Blanc can "beat to death" as the mystery unravels. Is that a clue as to how the victim is going to die by any chance?
The director also said that this time around we're going to get to know the Southern sleuth a bit better with the story being from his perspective: "In this one, Blanc gets an invitation to come to this murder mystery on this island. We're very much meeting these people and getting into this world through his eyes."
He also opened up about the origin of the film's title: "I'm always fishing for something fun that Blanc can grab onto as an overwrought metaphor that he can beat to death," he says. "This is all in plain sight from the very start. So, the idea of glass came to me, something that's clear. I'll be very honest. I literally got out my iPhone and searched my music library with the word 'glass.'
"'There's got to be some good glass songs.' I was like, 'Oh, is it a glass fortress? Is it a glass castle? Is it a glass man?' The first thing that came up, because I'm a huge Beatles fan, is 'Glass Onion'."
Johnson then revealed how the movie is going to begin: "First of all, it's structured around a group of friends, or frenemies, who all have a power dynamic with one of their successful friends. It begins with him sending an invitation for them to come and play this murder mystery game at this exotic locale. In 'The Last of Sheila', it's on his yacht, and everything ends up going horribly wrong. That is essentially how 'Glass Onion' begins.
"It's a roller coaster and not a crossword puzzle."
Keep your eyes peeled for the film's trailer, which will be released in the near future.
'Glass Onion: A Knives Out Mystery' will launch on Netflix on December 23, but will be released in theatres (TBC) before then.