Movie memorabilia normally takes the form of some prop or item of clothing from the movie.
For example, Russell Crowe's jockstrap from 'Gladiator' is now on display in the last remaining Blockbuster Video in the US. The Staff of Ra from 'Raiders of the Lost Ark' sold recently for a huge amount, as did Maverick's helmet from 'Top Gun'.
Prop auctions are pretty common, but for something like this, it's in another world altogether. Currently, a giant statue of David Hasselhoff is currently up for sale at auction, with a guide price of $975,000. And the best part? There's been 21 bids on it already.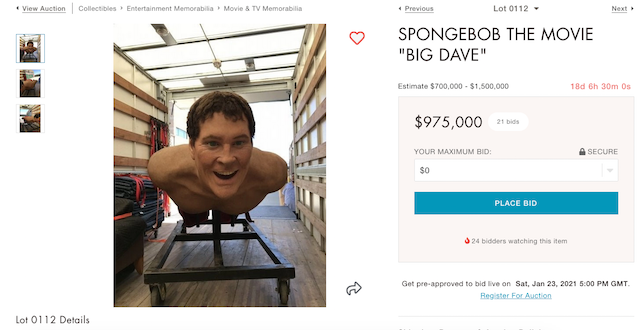 The giant statue was used in the production of 'Spongebob Squarepants: The Movie', which Hasselhoff played himself because who else was going to play him? Daniel Day-Lewis? Not even he could hope to master The Hoff's languid line delivery.
There are no dimensions for how big the statue is, but it would appear that it's only the upper half of available, and it can fit into the back of a truck. Either way, it's definitely going to be a conversation piece if you end up buying the thing.
Apropos of nothing, here's David Hasselhoff's song from the 'Kung Fury' movie because how else are we going to finish this news item?