As we gently move towards the end of Summer, and start to gather pace towards Autumn, we only have one thing in mind as the evenings grow darker.
Yes, Halloween is still two months away, but just like the run up to Christmas, the spooky season starts well before the main event.
That means, we're starting to see more and more horrors cropping up in the cinemas and on streaming platforms. So, we thought it would be a perfect opportunity for us to take a look at the horrors heading our way over the last few months of the year.
'Fall' - In Theatres
The fear of heights is something a lot of people, this writer included, suffer from. And although it's such a common phobia, it's not explored too much in movies. 'Fall', however, looks to be working to fix that, in a very intense way.
Watching the trailer for 'Fall', you'll instantly be transported to a height so uncomfortable it's nearly hard to watch. The plot is simple enough, best friends Becky (Grace Caroline Currey) and Hunter (Virginia Gardner) climb 2,000 feet to the top of a remote, abandoned radio tower and find themselves stranded with no way down.
This looks like pure, on-the-edge-of-your-seat, adrenaline-fueled cinema and we're, in all sense of the word, anxious to watch it.
Release date: August 30
'Bodies Bodies Bodies' - In Theatres
When a group of rich 20-somethings plan a hurricane party at a remote family mansion, a party game turns deadly in this fresh and funny look at backstabbing, fake friends, and one party gone very, very wrong
There's a lot of hype around the upcoming A24 horror flick. It's got a stellar cast, including Pete Davidson and Maria Bakalova and has all the ingredients of being a defining Gen-Z whodunnit in the vein of 'Scream'. The trailer has some hilariously self-aware bits and we can't wait to find out who the killer is.
And, yes Pete, it would be so obvious if it were you.
Release date: September 9
'Barbarian' - In Theatres
As if trying to figure out an AirBnb booking wasn't horror-inducing enough, this upcoming chiller takes the concept to a whole new, terrifying level. When Tess (Georgina Campbell) arrives at her AirBnb late at night, all is not what it seems. Keith (Bill Skarsgard) opens the door and claims he's actually been renting the place, but that she can stay while she tries to figure the situation out.
In the trailer we then see some creepy goings on which lead Tess to discover a mysterious basement area and tunnel systems. Skarsgard is so good at having a creepy presence and it's no wonder why they chose the 'It' star for this role.
Release date: September 9 in US & Canada. (Still waiting on an Irish release date)
'Goodnight Mommy' - Prime Video
This remake of the 2014 Austrian flick of the same name follows a pair of twin brothers (Cameron and Nicholas Crovetti) as they arrive at their mother's (Naomi Watts) country home. They discover her face covered in bandages - the result, she explains, of recent cosmetic surgery. But they immediately sense that something doesn't add up. She sets strange new house rules, smokes in her bathroom, and secretly rips up a drawing they gave her. All things their loving mother would never do.
As her behaviour grows increasingly bizarre and erratic, a horrifying thought takes root in the boys' minds: The sinking suspicion that the woman beneath the gauze, who's making their food and sleeping in the next room, isn't their mother at all.
Release Date: September 16
'Smile' - In Theatres
Horror movies have a habit of taking seemingly unremarkable things terrifying. Going to sleep? Nope, 'Nightmare on Elm Street' ruined that. Think goats are cute and innocent? Sorry, 'The VVitch' made sure they're scary now.
You'll be disappointed to find out that smiling is now the stuff of nightmares, and we have only seen the trailer to this.
'Smile' follows Rose (played by Sosie Bacon), who starts experiencing frightening occurrences that she can't explain. As an overwhelming terror begins taking over her life, she must confront her troubling past in order to survive and escape her horrifying new reality.
Release date: September 30
My Best Friend's Exorcism - Prime Video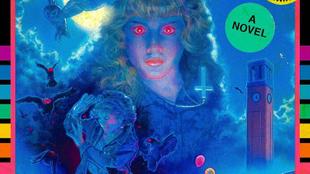 Based on the acclaimed 2016 novel from Grady Hendrix, this 80's-soaked horror is 'Stranger Things' meets 'The Exorcist'.
The year is 1988. High school sophomores Abby and Gretchen have been best friends since fourth grade. But after an evening of skinny-dipping goes disastrously wrong, Gretchen begins to act…different. She's moody. She's irritable. And bizarre incidents keep happening whenever she's nearby.
Abby's investigation leads her to some startling discoveries—and by the time their story reaches its terrifying conclusion, the fate of Abby and Gretchen will be determined by a single question: Is their friendship powerful enough to beat the devil?
Release date: September 30
'Halloween Ends' - In Theatres
'Halloween' is ending! Again. Despite a strong return with the 2018 flick, the follow-up 'Halloween Kills' was pretty meh. While we always love to see Jamie Lee Curtis on screen, it's probably a good time for the franchise to take a mighty break after this.
Four years after the events of the sequel, Laurie is living with her granddaughter Allyson and is finishing writing her memoir. Michael Myers hasn't been seen since his last brutal rampage. Laurie, after allowing the spectre of Michael to determine and drive her reality for decades, has decided to liberate herself from fear and rage and embrace life.
But when a young man, Corey Cunningham, is accused of killing a boy he was babysitting, it ignites a cascade of violence and terror that will force Laurie to finally confront the evil she can't control, once and for all.
Look, we'll watch it because it's 'Halloween', but at this point everyone's just waiting for 'Halloween' to well, end.
Release date: October 14
'The Menu' - In Theatres
Oh, nothing goes together better than horror and comedy. Although, depending on what's on his menu, Ralph Fiennes might disagree.
'The Menu' stars Nicholas Hoult and Anya Taylor-Joy as a couple who travel to a remote island to spend the evening at a high-end restaurant run by Fiennes. With not much else given away, the trailer shows a tense and slightly disturbing meal which will no doubt throw some surprises our way.
Release date: November 18
'Bones and All' - In Theatres
'Call Me By Your Name' director Luca Guadagnino and star Timothée Chalamet reunite for the much anticipated 'Bones and All'. Chalamet stars alongside Taylor Russell as two cannibals taking a romantic road trip across 1980's America.
The rest of the plot has been kept under wraps, with just a short teaser trailer so far. However it is based on the 2016 novel of the same name by Camille DeAngelis. Guadagnino has great form with both romance and horror (2018's reimagining of 'Suspiria') so we're certainly intrigued and very excited for this one.
Release date: November 24
'Hellraiser' - Hulu / Disney+
Pinhead is back! The iconic supernatural villain returns in this upcoming reimagining of the 1987 horror classic.
The film, which will be the eleventh instalment of the franchise, follows a young woman who faces the sadistic, supernatural forces behind an enigmatic puzzlebox responsible for her brother's disappearance.
Odessa A'zion will star with Jamie Clayton confirmed to play Pinhead. The script will follow the original Clive Barker story closely, an interesting move considering the sheer amount of (pretty awful) sequels that followed the cult classic over the years.
We're looking to see what it brings to the table, and with a good team behind it, including David S. Goyer ('The Sandman'), we're keeping our hopes up.
Release date: October 7 on Hulu (Hopefully with a Disney+ release soon after)