'Football Manager' is the closest we have right now to the machine from 'Quantum Leap' and for many of us, it's the closest we'll ever get to sitting in the dugout of our favourite club.
Speculation is at fever pitch right now as to who could replace the Norwegian at Old Trafford should they part ways with him.
Using 'Football Manager 21' (the most up-to-date version of the game available at time of writing) we've crunched the numbers and simulated a season apiece with the managers who are currently linked with the Manchester United job.
From the possible (Antonio Conte, Brendan Rodgers), the maybes (Zinedine Zidane, Erik Ten Hag) to the ludicrous (Neil Warnock) we take a look at the alternate realities where Manchester United part ways with Ole Gunnar Solskjaer.
Antonio Conte
The Italian jumps at the chance to return to the Premier League, having unfinished business from his departure from Chelsea in 2018.
Title champion with Chelsea and Juventus (and more recently, Inter Milan), the Italian pins his team around Cristiano Ronaldo, who rewards his new manager's dedication with 28 league goals, easily securing the golden boot in the process.
The free-scoring Ronaldo is among few bright spots for Manchester United, with their first Carabao Cup win since 2017 papering over another mediocre season for Manchester United.
The number '4' is a recurring theme throughout the season: the team finish 4th in the Premier League, crash out of their Champions League group in 4th place, and are eliminated in the 4th round of the FA Cup.
Talisman Bruno Fernandes endures a frustrating season, scoring only 6 times in 37 league games, with Marcus Rashford only netting 4 goals from the wing.
Ronaldo proves to be a front-bearing load for the team, but the fans don't seem to care; euphoric celebrations are reported when Conte offloads Fred to French outfit Rennes in January for €15 million, with unconfirmed reports of fans attempting to erect a statue of the mercurial Italian outside the stadium.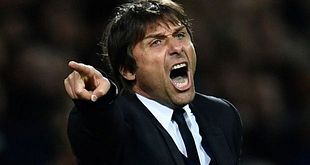 Zinedine Zidane
Sir Alex Ferguson is widely quoted as saying "give me Zidane and 10 pieces of wood and I'll win you the Champions League" and presumably the virtual iteration of the Scotsman had a say in bringing Zidane to the Old Trafford dugout.
The French icon endures a frustrating season in charge, with a 5th place finish in the league offset by a promising Champions League run being ended in the quarter-finals by Zidane's old employers, Real Madrid.
May sees Zidane's side win a single league game of their final 6, with a potential 2nd place evaporating following three losses, two draws and a paltry 1-0 win over Watford.
Marcus Rashford establishes himself as the sides top striker, scoring 14 Premier League goals in the process, and forcing Cristiano Ronaldo out on the wing.
Ronaldo matches Rashford's league goal haul from the wing, with his 6 Champions League goals building the potential foundations for Ronaldo, defender Raphael Varane and Zidane to rebuild their dominant Real Madrid side of the 2010's.
January sees the signing of Jesus Corona from Porto add yet another attacking option for the Red Devils, with wonderkid Mason Greenwood opting to spend the rest of the season on loan at Chelsea as a result.
The season ends trophyless for United, with cup defeats against Chelsea and Leeds serving as marks on the mercurial Frenchman's first season in charge following the departure of Ole Gunnar Solskjaer.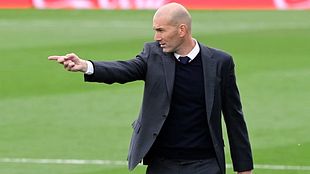 Brendan Rodgers
The County Antrim man taking over the dugout at Old Trafford was a controversial move for Manchester United fans.
He achieved notable success at Leicester City and Celtic, but there was one massive question mark on his CV for the Red Devils: his time as Liverpool manager.
Brendan Rodgers reacts as you'd expect; he only goes and wins the Champions League and FA Cup in his first season.
A 4th place Premier League finish is the only mark on what ended up being a remarkable season for United, somehow figuring out a tactical system that allows Cristiano Ronaldo, Bruno Fernandes and Jadon Sancho all play together without ruining the team.
A 4-2-3-1 formation works a treat for Rodgers, and is instantly assured god-like status in the city of Manchester by defeating old club Liverpool in the Champions League final.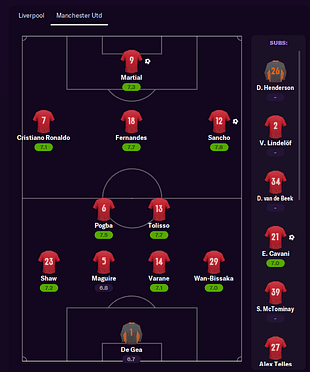 January sees the addition of Frenchman Corentin Tolisso to midfield to accompany compatriot Paul Pogba, and the duo provides a steady backbone to the swashbuckling United.
Tolissio immediately establishes himself to the United faithful by scoring the winner against Manchester City in the Carabao Cup.
Cristiano Ronaldo emerges as top scorer among the attacking talents at United's disposal, netting 17 in the league, but Bruno Fernandes, Jadon Sancho and Anthony Martial all score above 10 goals each.
The future is bright for United, and not even having Marcus Rashford ruled out for 5 months with an achilles tendon problem can dampen what is a remarkable season.
Erik Ten Hag
United take a gamble on the exciting Dutch manager, hoping he can get the best out of Donny Van De Beek - and succeeds in some style.
Ten Hag is the only manager in this simulation to win the league for Manchester United, and in comfort, too - an 8 point gap between 1st and 2nd.
Ending a near 10 year wait for a Premier League trophy is a feat for any budding Manchester United manager, and he nearly goes one better in Europe.
A run to the Champions League final against a triumphant Atletico Madrid is the icing on the cake for the Dutchman.
A 3-0 defeat to a Joao Felix inspired Atletico Madrid was too much for the Dutchman's high-pressing, attacking style of football but United fans surely can't complain about making their first Champions League final since 2011.
Like every other manager in the simulation, Ten Hag employs a 4-2-3-1 formation which leaves a gaping hole in the middle of the pitch, but the trade-off is two mudguards in front of a solid defence.
Ten Hag links up Van De Beek and Pogba in front of Maguire and Varane to great effect, acting as an effective breakwater for opposing attacks and proving to be a potent duo when it comes to setting up chances - the pair secure a combined 14 assists in the league for their troubles.
Top scorer? You guessed it, Frank Stallone Cristiano Ronaldo.
Neil Warnock
Surely not?
For chaos reasons, we picked 72-year-old legendary grump Neil Warnock to take the reins at United, and selected Roy Keane as his assistant.
The results were shockingly not as bad as you would think.
A 3rd place finish, a run to the Champions League semi-finals and an FA Cup final loss make for a surprisingly good season for the professional Livia Soprano lookalike.
His biggest contribution is playing Bruno Fernandes alongside Paul Pogba in a 4-2-3-1, making the Portuguese dynamo play more like Roy Keane than Luis Figo.
Fernandes' natural aggression is a perfect fit for Warnock, and he notches 12 goals and 11 assists from a defensive midfield position.
The Warnock season is not without it's struggles - United fail to win a game until October and Jesse Lingard has a large public falling-out with Warnock leading to the midfielder being sent to the reserves - but the team quickly puts together a strong run of form.
Marcus Rashford struggles greatly as the lone striker, with 6 goals in 34 games leading to Rashford sensationally being dropped from the England squad - presumably having Dean Henderson "put it in the mixer" for the forward was too tall an order.
Cristiano Ronaldo secures the Premier League golden boot under Warnock, with a tidy return of 22 goals, cementing an unorthodox, but effective partnership.
The season is all to play for until May, until 3 successive draws in their final Premier League games put paid to any hopes of Warnock and Harry Maguire lifting the trophy together, and a penalty loss to Chelsea in the FA Cup final means United have to settle for a Carabao Cup victory in Warnock's debut season.

That was a glimpse into several different realities that could be coming soon to a universe near you should Manchester United sack Ole Gunnar Solskjaer.
Is there any manager you want to see take the reins at Manchester United? Let us know in the comments!