Normally, when we do these kinds of stories, we're normally talking about uber celebrities like Jennifer Aniston or the like.
Why, then, are we talking about Roy Keane joining Instagram? After all, he's an ex-footballer who's since become a pundit. We're an entertainment outlet - literally, the name of our website is entertainment.ie - so, again, you're right to ask why we're talking about this.
There's a very simple reason, folks.
His dynamic with Micah Richards is extremely entertaining. Like, if they were to somehow do a buddy-cop show together, we would watch the utter shit out of it. The dynamic between them is just that good. Micah Richards is the wise-cracking funny one, and Roy Keane is the hard-bitten veteran who doesn't take crap off anyone. Together, they're Richards and Keane - doling out football opinions and street justice.
Just get a load of this.
Anyway, the reason we bring up Micah Richards is because Roy Keane has been on Instagram for all of eighteen hours now and he has yet to follow him. Indeed, the only thing Keane has posted on his Instagram so far is a picture of him smiling with his dog.
Here's said photo.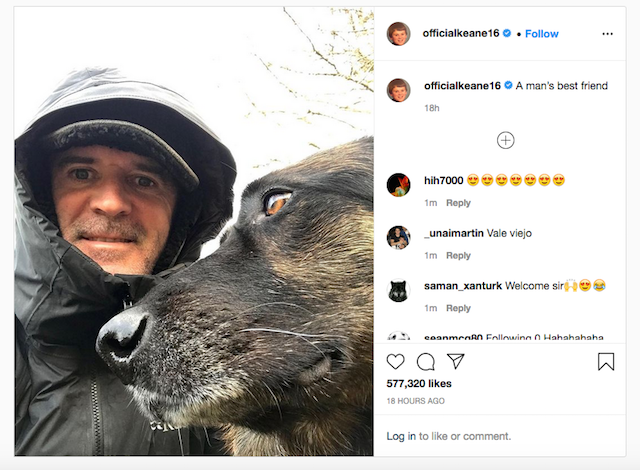 It's heartwarming, yes, and there isn't a trace of the intensity or the disdain that Roy Keane has phones going off during a press conference or people celebrating. But, still, there is no reference to his buddy, Micah Richards.
Why is that, Roy Keane? Why are you depriving the people of what they want?