The reboot of the 'Saints Row' franchise is the latest game to face delays.
An update from Volition chief creative officer Jim Boone read "Our priority is to create the best 'Saints Row' game yet and, if we released on the original date, it wouldn't be up to the standards we've set ourselves, and that you're expecting and deserve."
"The team just need more time to do our vision justice; we're doing some fine-tuning and there won't be much change in the game outside of overall quality and polish."
The franchise has been on hiatus since 2015's 'Gat Out Of Hell' DLC for 'Saints Row 4'.
2017 saw Volition release 'Agents of Mayhem' which included some characters and iconography from the 'Saints Row' universe but received mixed reviews and sold poorly.
The 'Saints Row' reboot was officially announced at this year's Gamescom convention, with the trailer receiving decidedly mixed reviews from fans for its visual style.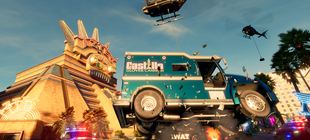 Films such as 'Baby Driver', 'Hobbs and Shaw', and 'John Wick' have been cited as influences on the games tone and style, with the developers keen not to make the game an outright farcical comedy like 'Saints Row 4' but still retaining the off-kilter tone the series is famous for.
'Saints Row' will take place in a region resembling the South-West region of America, with players able to take over 9 districts within the city, from the suburbs to a Las Vegas-style gambling den to a rural town.
The original 'Saints Row' celebrated its 15th birthday of August of this year and the series started life as an Xbox 360 exclusive.
The reboot of 'Saints Row' will now release on August 23rd, 2022 for PlayStation 4 and 5, PC, and the Xbox series of consoles.