Esports has helped elevate gaming into the mainstream, and John Needham, head of Esports at Riot Games, has plans to make it an Olympic sport.
Speaking to us at the opening of Riot's new esports broadcast facility in Swords, Needham said that esports is the future of sports, and the new facility is a vote of confidence for Riot's ambitions.
Speaking to John Needham, the President of Esports at Riot Games, the Riot Games mastermind said picking Dublin as a base of operations was a "no-brainer."
"There are three reasons we picked Dublin," he told entertainment.ie
"Firstly, we have the existing relationships from our time in Ireland, and we find it easy to do business here."
"We also found there's great infrastructure in Ireland that allowed us to pursue this project, everything we needed is right here."
"And lastly, Ireland has tonnes of talented people that we can pick from, so settling here was an easy decision."
Riot's most famous franchise, 'League Of Legends', received the Netflix treatment recently with the 'Arkane' show, and Needham said the show becoming a mainstream success was a "big surprise" to him.
"We knew the fans of the game were going to watch it, but we certainly didn't expect the show to catch on the way it did."
The success of the show hasn't necessarily translated into an increased player base as far as Needham could see, but that was not the intent of the show.
Rather, it was a case of introducing the world and lore of the game to a wider audience.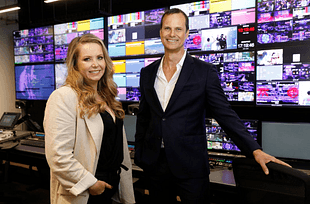 Esports has seen a major boost in viewership during the Covid-19 pandemic, and Needham said investing in such a facility was a way to keep this newfound audience invested in the sport - and Needham is looking to use his influence to introduce esports as an Olympic event.
"Esports is a part of the Asian Games next year, and that's the second biggest sporting event in the world behind the Olympics in terms of size."
Needham said that introducing esports to the Olympics is a possibility, but he said "I think it's still an education process with the Olympic committee as to what esports are."
"Esports is very different from traditional sports, but we see it as the sports of the 21st century. The inclusion of esports at the Asian Games next year will hopefully be a great example of what it can be."
Needham said he has talked to Olympic committees lobbying for the inclusion of gaming, and he said that esports is "sports for the 21st century."
Needham's assertations were backed up by Ally Gormley, the project manager at Project Stryker.
"There is this image in the media that gamers are people sitting in their parent's basements, but you have teens making 6 figures playing video games, they train and practice just like real athletes - being an esports athlete is a genuine career path for young people these days."
The recent acquisition of Irish Esports team Wylde by Olympian Usain Bolt will "go a long way" to normalise the sport within Irish culture according to Gormley.
French President Emmanuel Macron recently said in an interview that while he isn't a gamer himself, he acknowledges the massive potential of the sport, and would be in favour of esports being included in the next Olympic Games in Paris in 2024.
A 2028 or 2032 berth is more likely, but Needham is looking to keep pushing to make esports as mainstream a sport as the NFL or Premier League.
"At Riot, we live to blow our player's minds and give them experiences they can't have anywhere else."
"In streaming, players can avail of drops which are in-game items that can help them out. There is that interactivity with esports you don't get anywhere else, it brings the viewer into the game."
"Esports is so much more interactive and active than traditional sports, and we're looking to take advantage of that."
"This centre here in Dublin will play a large part in helping bring that to the world," he added.
With the Project Stryker the first of three planned sites globally, Needham said it "wasn't out of the question" for Ireland to host esports events in the future.
"We're doing events at different scales, and we will always look at Ireland as one of the places to come."
"The point of this facility here in Dublin is that massive esports events can be broadcast and televised here from this centre in Dublin, so even already, Ireland is playing a massive part in our future plans for esports."