With esports rapidly overtaking regular sport in viewership, a new state-of-the-art broadcast centre for esports has opened in Swords.
"Project Stryker" is the codename for the Remote Broadcast Centre, which serves as the first of three planned facilities worldwide.
The broadcast facility will be able to produce six esports events at once, and will be able to transmit data from Dublin to esports competitions in Shanghai in one-third of a second.
Over 30km of cables are running through the facility, and the €18.5 million investment is a major step forward for Riot Games.
The Remote Broadcast Centre is located in Swords where the former Wright Venue nightclub was, and for concerned readers, Riot Games kept the disco ball.
Riot Games set up shop in Dublin in 2010, and is best known for being the brainchild behind the worldwide sensation 'League of Legends'.
The American developer picked the Swords location as its venue owing to its existing base in Ireland and its "exceptional talent pool."
Speaking at the opening of the centre, Ally Gormley, the General Manager of the facility said the facility was the company "future-proofing" itself.
Gormley said that there are still ways to go before esports culture becomes as prevalent in Ireland as it is in other parts of the world, and said it's a matter of normalising the sport.
"More people watch esports globally every weekend than people watch the Superbowl in the States every year," she noted.
In terms of growing esports in Ireland, Gormley said there have been some fairly major steps into making the sport mainstream.
"A few years ago Jamie Heaslip got in touch with us and he came to our offices. He posted on his social media that he was hanging with us and it got a great reaction, and that really helped in terms of legitimising us to the culture."
Gormley said Riot are keen to secure Ireland's best and brightest graduates to work in the facility, and said the company is working closely with local education establishments to secure a steady flow of media graduates.
"The key to taking gaming in Ireland to the next level is normalisation. Relate it back to stuff people already know."
For instance, the recent acquisition of Dublin-based team Wylde by Olympic champion Usain Bolt helped make esports appear just as mainstream or "legitimate" to the general public.
"My dad read that piece and he was like 'isn't that the job you're involved with' so it is a matter of appealing to what people already know."
The centre has been three years in the making, and will now serve as the engine for esports broadcasts the world over.
"Project Stryker" will play a similar role that a production truck plays at sporting events across the world, with the graphics, sounds and editing that goes into putting on a sporting event now taking happening in Swords.
James Wyld, an infrastructure engineer at Riot Games, said putting together an esports event is a tricky feat.
"You have 3 days to build an entire IT support system from scratch, and you have to add in planning for a major concert in an arena on top of that," he said.
Wyld said all the traditional tricks of the trade are very much in play at this new swanky Dublin centre, saying that the traditonal TV control room dynamic of a producer sitting next to a director to pick out the most exciting shots is still a factor.
The facility allows the team at Riot to oversee and produce esports events from all corners of the globe.
Wyld said that Riot investing so much into the centre is an example of "a rising tide lifting all boats," and hopes that Riot can help kickstart a new era in esports.
"It's important to make sure that Riot aren't stuck in the past, and this centre is a great example of that."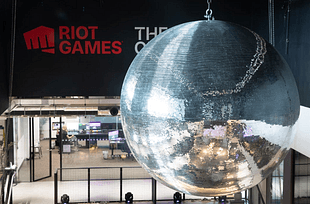 The centre is a tech geeks paradise, but a large part of the processing power happens off-site.
Riot recently signed a deal with Amazon's cloud computing service to help handle the heavy computing processing power that goes into running events.
There are screens and PCs aplenty at the Swords centre however, making it a slice of Silicon Valley in North Dublin.
Speaking to John Needham, the President of Esports at Riot Games, the Riot Games mastermind said picking Dublin as a base of operations was a "no-brainer."
"There are three reasons we picked Dublin," he told entertainment.ie
"Firstly, we have the existing relationships from our time in Ireland, and we find it easy to do business here."
"We also found there's great infrastructure in Ireland that allowed us to pursue this project, everything we needed is right here."
"And lastly, Ireland has tonnes of talented people that we can pick from, so settling here was an easy decision."
Riot's most famous franchise, 'League Of Legends', received the Netflix treatment recently with the 'Arkane' show, and Needham said the show becoming a mainstream success was a "big surprise" to him.
"We knew the fans of the game were going to watch it, but we certainly didn't expect the show to catch on the way it did."
Esports has seen a major boost in viewership during the Covid-19 pandemic, and Needham said investing in such a facility was a way to keep this newfound audience invested in the sport - and Needham is looking to use his influence to introduce esports as an Olympic event.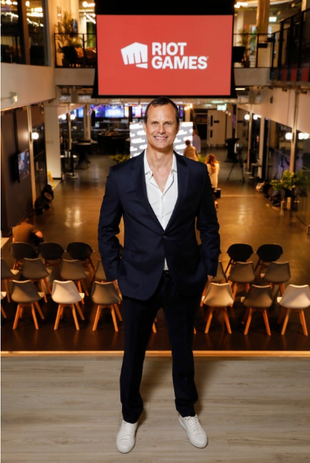 "Esports is a part of the Asian Games next year, and that's the second biggest sporting event in the world behind the Olympics in terms of size."
Needham said he has talked to Olympic committees lobbying for gamings inclusion, and he said that esports is "sports for the 21st century."
"At Riot, we live to blow our player's minds and give them experiences they can't have anywhere else."
"Esports is so much more interactive and active than traditional sports, and we're looking to take advantage of that."
"This centre here in Dublin will play a large part in helping bring that to the world," he added.