Gaming continues to be big business on the financial and social media front.
Research carried out by Twitter showed that over 2.4 billion tweets about gaming were created in total across 2021, which marks a 14% increase from the previous year and a 10x increase compared to 2017.
Stats from Twitter showed that Q4 of 2021 was the biggest quarter for gaming conversation on Twitter ever.
Gamers talked about a wide range of topics, from everything to the latest games to the biggest developments in Esports.
'Genshin Impact', 'Apex Legends' and 'Animal Crossing: New Horizons' were among the top 10 most talked-about games on the platform in 2021, with favourites such as 'Minecraft' and 'Fortnite' also making an appearance in the top 10.
"The gaming community around the world came to Twitter to talk about the biggest moments of the year as in-person esports events returned to centre stage, publishers dropped new games like 'Halo Infinite', media outlets continued to expand coverage of the space and NFTs became a hot topic" said Rishi Chada, Global Head of Gaming Content at Twitter.
Japan was the nation that generated the most tweets about gaming in 2021, with the United States and South Korea following behind.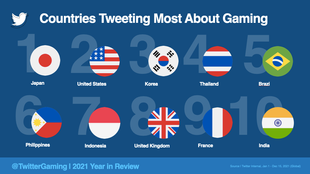 After a no-show in 2020 for obvious reasons, E3's return in 2021 was well-received by the gaming community, with the expo in Los Angeles proving to be the gaming event that generated the most conversation on Twitter, with The Game Awards and the Xbox Games Showcase close behind.
Esports also served as a major driver of engagement on the website in 2021, with Mongraal becoming the most talked-about Esport athlete of 2021.
LOUD esports was Twitter's favourite team to discuss, while the league surrounding 'League Of Legends' was the game that generated the most traffic for Esport leagues.
CBLOL, the top-level professional 'League Of Legends' league in Brazil claimed the title of the most-talked about Esport league, which points to the growing popularity of Esport as global sporting events.