Football fans have voted for their top picks to line out for the Team Of The Year in 'FIFA 22'.
Fans have picked a who's who of football stars to be in their team of the year, with an irresistible front-line of Lionel Messi, Robert Lewandowski and Kylian Mbappe leading the line.
The midfield is a Premier League affair with Chelsea's Champions League-winning heroes of N'Golo Kante and Jorginho offering a solid spine to compliment Manchester City's Kevin De Bruyne.
Manchester City's Portuguese defending duo of João Cancelo and Ruben Dias occupy the left-wing and centre-back positions, while PSG's pairing of Marquinhos and Achraf Hakimi occupy the centre-back and right-wing positions respectively.
Italian giant and the Hero of Wembley, Gianluigi Donnarumma, caps off an incredible 2021 by securing a spot as the goalkeeper.
David Beckham was on hand to announce the final XI, and had Ultimate Team existed when the Englishman was in his prime at Manchester United, he would have found a spot in the starting line-up.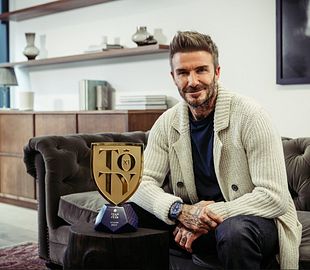 Fans who want to avail of the limited edition versions of the players will be able to do so from January 21st, when the attacking players are made available in the Ultimate Team game mode, with the remaining players available next week.
Millions of fans voted for the starting 11, with 80 players whittled down and the successful 11 chosen for the starting line-up.
"EA SPORTS FIFA Team of The Year is the authentic voice of millions of football fans, as they assess the world's greatest players and vote for those they believe had the biggest impact on the beautiful game in 2021," said David Jackson, VP of brand for EA SPORTS FIFA.
"Year after year, we're energised by the engagement of our global football community, and we're honoured to showcase their chosen XI in FIFA 22."