2021 was a difficult year for game developers, with the vast majority of gaming developers opting to work from home and put employee safety first.
Coupled with console shortages, delays and developers getting used to new gaming consoles, 2021 was a mixed year for the medium, but 2022 is already looking brighter.
Let's take a look at what games we have to look forward to in 2022.
Horizon: Forbidden West (February)
One of Sony's top franchises is poised to become the first blockbuster for the PlayStation 5.
A major critical and commercial hit upon release in 2017, 'Horizon: Zero Dawn' established Dutch developer Guerrilla Games as one of Sony's top in-house studios, and with the power of the PlayStation 5 powering Aloy's new adventure, 'Forbidden West' promises to be bigger and more sprawling than the original game.
Starfeld (November)
Could Bethesda make it back-to-back awards for Game Of The Year?
With 'Deathloop' winning our Game Of The Year prize from us and dozens of other publications and being bought out by Xbox Game Studios, 2021 was a banner year for Bethesda.
Their first original IP in over 25 years is poised to be perhaps the biggest game of 2021.
Based on what we've seen so far, 'Starfield' promises to do for sci-fi games what Bethesda's own 'Elder Scrolls' series did for fantasy.
Elden Ring (February)
The newest game from the creators of 'Dark Souls' being developed with input from George RR Martin.
The easiest sell for a game this side of 'Grand Theft Auto 6'.
Players are tasked with defeating demigods in a sprawling fantasy world.
Gameplay from the 'Souls' series taking place a George RR Martin is a match made in gaming heaven.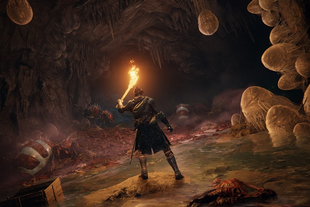 Rainbow Six Extraction (January)
'Rainbow Six Siege' has been remarkably profitable for Ubisoft, but even they want to stretch their legs and try something new once in a while.
'Extraction' looks to build upon the formula that has made 'Siege' such a hit while adding some sci-fi twists.
Players can pick their favourite specialists and take part in a series of missions to combat an alien menace.
If the gameplay is anywhere near as addictive as 'Siege', Ubisoft have another hit on their hands.
Legend Of Zelda: Breath Of The Wild 2 (TBA)
The game heard around the world, most sandbox games released in the wake of 2017's 'Breath Of The Wild' are indebted to Nintendo's opus in some way.
News and gameplay footage is scant thus far, but we can expect to see Link's new adventure sometime in 2022.
God Of War Ragnarok (TBA)
After 2018's 'God Of War' rebooted the series for a new generation, expectations are sky-high for the new Kratos adventure.
Kratos is taking out his anger on Norse mythology this time, and will see Kratos' trademark brand of violence take place in the dramatic landscapes of Norway.
If it's anything like previous games in the series, expect strong character beats, brutal violence, and gorgeous graphics.
Saints Row (August 2022)
With the franchise dormant since 2015's spin-off 'Gat Out Of Hell', the Saints are making a comeback in 2022 with a brand new reboot.
A total rebuild from the ground up, 'Saints Row' is bringing the series back to basics as a crime simulator, before later games in the series had players fighting the might of the American military, zombies and aliens.
While it won't be as gritty and realistic as 'Grand Theft Auto' or 'Mafia', we expect enough of the typical 'Saints Row' DNA in this reboot to make it stand out in the sandbox market.
Forspoken (May)
A tag-team of industry stars have come together to work on this new game from Square Enix.
Gary Whitta and Amy Henning are among the game's writers, with Whitta's previous game writing experience coming from working on Telltale's 'The Walking Dead' and Amy Henning the person responsible for establishing Naughty Dog as one of the industry's foremost storytellers.
An open-world game designed exclusively with the next generation in mind, the gameplay footage we've seen so far shows a richly detailed and fluid game world and could be the open-world game that shows off the capabilities of the new console hardware.
Running on the same engine as 2016's gorgeous 'Final Fantasy XV', Forspoken looks to blend Square Enix's gorgeous graphical chops with the fast and dynamic gameplay of more contemporary RPG's.
Hogwarts Legacy (TBA)
Over 20 years since it first impacted the culture, 'Harry Potter' has transcended all mediums from film, theatre and of course print, but it has never had a truly great triple AAA title.
An open-world RPG set in Hogwarts using the Unreal Engine, which recently wowed us in 'The Matrix Awakens' tech demo, is a tantalising prospect for any fan.
Series creator JK Rowling has no involvement with the project, but considering the recent controversy around her and the quality of the 'Fantastic Beasts' films, that may be a positive thing.
Avalanche Software are the developers involved here, best known for their work with the Disney brand and the 'Disney Infinity' games, meaning they have good chops in using established IP.
It should be worth noting any of the games on this list may be subject to delays or production difficulties, but 2022 is already looking like a stronger year for games than 2021.
We will be tackling all these games, so keep it locked to our gaming section for coverage of these titles.