When I first saw the trailer for Kristen Bell's new Netflix series I wondered whether it was supposed to be a satirical comedy or a psychological thriller.
After watching the entire eight episodes, I'm still wondering.
'The Woman in the House...' (or what I prefer to call 'TWITHATSFTGITW', for short) is a comedy taking aim at the cookie-cutter murder-mysteries in the same vein of 'The Girl on the Train' or 'The Woman in the Window'.
However, in trying to poke fun at clichés and lazy writing, the show ends up being full of clichés and lazy writing. Essentially, it becomes the very thing it set out to mock, without adding much else. It doesn't have enough jokes to be an out-and-out comedy, and it's not mysterious enough to be a full blown mystery. So where does it land? The answer is annoyingly somewhere in the middle.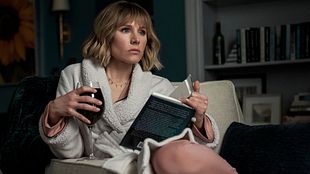 After splitting from her husband following their daughter's tragic death, Anna (Kristen Bell) doesn't have much going on. She spends her days drinking an inordinate amount of wine and staring out her window. Thankfully, a handsome neighbour (Tom Riley) and his young daughter (Samsara Yett) move in across the street. Anna starts to see a a place for herself in the new family's life and things start becoming rosy again. That doesn't last long though, as Anna witnesses what looks very much like a murder across the street. But can she be sure of what she saw, or is her mind playing tricks?
Watching the show, it's clear to see Bell is an actor with great comic timing. She really does her best with what she's been given. But she's been given a hard task to tow the line between basically two tonally different shows. Sometimes that results in some clunky scenes of her trying to break awkward silences or narrating her inner monologues which read like inspirational signs hung up in a kitchen. A lot of the time I don't know if it's a joke or not.
There is some great use of humour throughout the series though, most of them recurring gags. Anna's abundance of casseroles. Her best friend Sloane (Mary Holland) constantly appearing outside Anna's house after promising she wouldn't. The cheesy epitaphs on Anna's daughter's gravestone constantly changing. They're all straight out of the Will Ferrell playbook. So it's no surprise to find out that Ferrell serves as executive producer.
However, the realisation of Ferrell's involvement just makes you wonder what the show could have been like if it leaned more into comedy. There's clearly great comedic minds both in front of and behind the camera, but it seems restricted by the very genre it's trying to mimic.
Buell, the handyman who has been trying to fix Anna's mailbox for the entire season, is an excellent, if under-used character. Played by Cameron Britton, who chillingly portrayed serial killer Ed Kemper in 'Mindhunter', once again, the series seems to miss an opportunity to flesh his story out more. The aforementioned Sloane and Anna's nosey neighbour, Carol (Brenda Koo), are both underused too.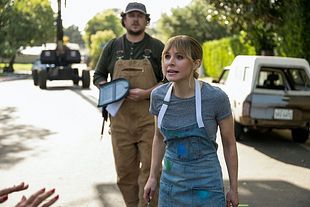 Another misstep is choosing to make this a series and not a movie. Surely a condensed version of the story, with some punchier jokes would have landed much better. Again, it all points to the muddled nature of the show itself. It doesn't know what it wants to be. It's enjoyable to watch in parts, and the final act definitely steps up the ridiculousness. But it all comes a little too late. I've already watched nearly four hours of a (purposely) poorly-imitated thriller.
'The Woman in the House...' aims for a fresh take on the whodunit genre. But while watching it, I was never bothered to ask "who", I was too busy asking "why".
'The Woman in the House Across the Street From the Girl in the Window' is out on Netflix Friday, 28 January.