Director Barry Jenkins has his frequent collaborator, DoP James Laxton, back behind the camera, meaning like Jenkins' works 'Moonlight' and 'If Beale Street Could Talk', there is some stunning cinematography here. The opening shot calls back to "the sunken place" of 'Get Out'. Jenkins too looks at the horrors of racism. His utilisation of this highly stylised, distinct cinematography, which utilises a connective breaking of the fourth wall as two characters stare at one another, as well as defiant looks to the camera that pierce the viewer, make him stand out as an auteur.
The incredible camerawork of the series alternates between delicate intimacy and sweeping grandeur. The style thus matches the drama and the emotional force of what the audience is witnessing here. 'The Underground Railroad' is a drama that grips you like a vice. It is weighty, though compelling, and the viewer may need to take a breather from it every so often.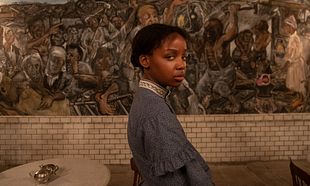 Its power to move and distress is marked from the first episode in which a brutal, devastating whipping scene is followed by a horrifying immolation. Newcomer Thuso Mbedu is extraordinary, feeling something of a Viola Davis ingénue. She gives such a poignant, stirring performance of pain and determination. Cora displays remarkable resilience against such cruelty and injustice. Mbedu has a face you can't look away from, her eyes transmitting such depth of emotion.
Joel Edgerton makes for a frightful and sadistic villain, particularly if you're used to seeing the actor in more sympathetic roles. What may be worst of all is that he has no doubt of being the good guy in his story. (Indeed 'The Underground Railroad' becomes as much his story as Cora's) Then there's the little boy Homer (another fantastic newcomer performance, from Chase Dillon) who idolises Ridgeway and is far from an ally of his people. Other terrifically realised characters who weave into the narrative at a later stage include Prideful (Lucius Baston – 'Atlanta', 'Lovecraft Country') and Royal (William Jackson Harper – Chidi from 'The Good Place's).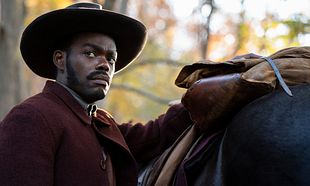 The production design of 'The Underground Railroad' is also phenomenal and truly transporting. The episode two setting of South Carolina offers a beautiful, dreamlike life, with something dark brooding beneath the surface. North Carolina is introduced through a shocking display. Now it is worth noting that around episode 5, you'll have witnessed such gloom, barbarity and injustice that you may want to check out. But push through, because it does pick up again. By the final three episodes, you won't be able to stop watching.
'The Underground Railroad' is a slow burner and cinematic in its scope, story, visualisation, and character journeys. It is a challenging but rewarding watch, with some of its shots remaining burned in your mind perhaps always.
'The Underground Railroad' will premiere all episodes on 14th May 2021 exclusively on Prime Video.