So 'The Morning Show' has definitely found its flow at this stage of the season. There's plenty going on in terms of plot and character development, in some of the smaller storylines as well as the bigger ones. Daniel (Desean Terry), for example, has become a fiery presence. He's stopped moping and feeling sorry for himself, and is taking affirmative action, pushing people's buttons, and we are loving him for it.
Then you've Mia (Karen Pittman) and Stella (Greta Lee) just putting up with so much nonsense between Daniel's mood swings, Chip (Mark Duplass) being standoffish and Cory (Billy Crudup) being demanding. Meanwhile, Yanko (Nestor Carbonell) gets suspended following his altercation in last week's 'The Morning Show' (you feel for him, but he really should have seen that one coming – he's been working in TV for how long?).
Everything about this episode sizzles and sparks. It centres largely on Bradley (Reese Witherspoon), who's going up and up, getting all she wants for her career, flowering under Laura's (Julianna Margulies) tutelage and encouragement, and even gets to work opposite her secret girlfriend. But then, her brother shows up and you knooooow it's about to go down (Bradley, as it happens, has made quite a few jokes on TMS about how distant she and her family are at this stage – we'd a feeling they were not not far from the truth).
There's a very flirty segment which Bradley and Laura co-host on The Morning Show - or at least we the viewers know it's flirty. Then Bradley comes undone as she learns an article exposing her and Laura's relationship has been published. She's an emotional wreck, horrified at being so cruelly outed, and almost has a panic attack live on air. The scene between her and Laura in the dressing room is incredible. Julianna Margulies continues to be the most inspired casting choice for season 2, brining sanity to the craziness of Bradley and Alex (who is MIA this episode).
Bradley confesses her family woes to Laura, expecting her to play shrink as well as girlfriend, role model, and mom sub-in. It's clear that Laura puts up with a ridiculous amount of crap from Bradley, not least given she won't come out and fully be with her. In a later conversation on the phone, Laura calls Bradley out, leading to this reviewer's favourite lines of the episode (given how, as previously discussed, childish and immature Bradley can be). Laura tells her fellow TMS host: "You're not a kid anymore. F**ked up kids have an excuse. F**ked up adults get therapy. F**ked up adults change their circumstances."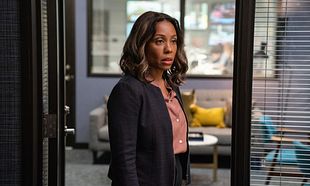 There's a gorgeous, tragic performance from Karen Pittman as her character sees an article that claims Mitch "targeted" black women. Headlines thus hurt and victimise more than one character in this episode, but for Mia, this is also trauma. We hope to see more of this, but as previously mentioned, it's a Bradley-heavy episode. Witherspoon reminds you how impressive an actress she is, her character's confrontation with her brother another example of the great writing this episode (he tells her "this is really not a good time for this," regarding the article about her and Laura; when he tells her he's using again, she mourns that "it's too much" for her). A last conversation with Corey sees Bradley admit maybe the exposé will drive her to admit she cares about someone and invest properly in their relationship. It's a big step forward in the growth of Bradley as a character.
Now where the heck is Alex..? (By the way that rant from her assistant at Cory, so unnecessary, and a low point for the episode)
'The Morning Show' is streaming on Apple TV+ now.