Looking for something vulgar, gross, hilarious and at times incredibly touching? It's the brashness of 'The Boys', now in animated form.
Garth Ennis' 'The Boys' comic book series has been around since 2006, and recognition of the franchise exploded into pop culture once it was picked up by Amazon Studios, the first live-action series premiering in 2019. Now bigger than ever, with a number of spin-offs and sequel series in the works, 'The Boys: Diabolical' is the first such delve back into the realm which revolves around Vought, Supes and a thoroughly pissed off Butcher.
As 'The Boys' TV adaptation itself is already very out-there, the question is - how do you top the mayhem we've already seen? With the forthcoming season three expected to push the envelope even further, enter 'The Boys: Diabolical' to serve as an animated buffer while we wait for part three to hit this summer.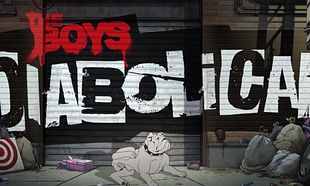 Consisting of eight 12/13-minute length animations, don't expect this to change your world, but rather enjoy the sheer madness of it all. We've seen the animated concept be explored in a number of ways for different franchises, even more so since the pandemic (Marvel's 'What If...' is the most recent that comes to mind), with the animated series serving as a more comical escape from its more serious live-action counterpart.
Except everything about 'The Boys' isn't serious, is it? It's about a group of egotistical superheroes working for a money-grabbing, unethical corporation who will stop at nothing to protect their little Supe credentials and public profile. With all of its dark humour and devastating storylines, 'The Boys: Diabolical' arrives then to truly lean into the madness of it all - without any major consequences to the main players of the series.
Sure, some of the characters from the live-action series reprise their roles here (Anthony Starr is the only one to voice his animated counterpart, Homelander) but the main focus is on brand new characters created especially for their own 12-minute gig.
There's a pretty stacked created team involved in the making of the series, and hopefully, they'll stick around for what will presumedly be a number of future series. As you would expect, a lot of the team from the original series are here as producers, including series creator Eric Kripke alongside Seth Rogen, Evan Goldberg, James Weaver and Garth Ennis.
The writing team includes Awkwafina, Andy Samberg and siblings Eliot and Ilana Glazer, with the voice cast including Jason Isaacs, Don Cheadle, Ben Schwartz and Simon Pegg.
But the series is not just all hilarious quips and a disgusting amount of blood - there's a couple of episodes in there that will stir up some emotion. 'John and Sun-Hee' for example, written by Andy Samberg, stands out amongst the rest for its beautiful Korean-inspired anime and its incredibly touching yet monstrous storyline; while Justin Roiland and Ben Bayouth's 'An Animated Short Where Pissed-Off Supes Kill Their Parents' is its polar opposite, being the perfect mix of 'The Boys' meets 'Rick and Morty'.
While it's definitely not season three of 'The Boys', 'Diabolical' certainly makes a blood-splattered arrival onto Prime Video, showing us a different side to the comic book franchise - and one that we'd love to see further explored down the line.
'The Boys: Diabolical' begins streaming on Prime Video on March 4.