'Shadow and Bone' is an eight-part Netflix original based on the first book in the 'Grisha' trilogy series by author Leigh Bardugo.
'Shadow and Bone' drops us into a fantasy world in the Kingdom of Ravka. Many years ago, a foul, dark area of land known as "The Fold", which harbours flesh-eating winged monsters, appeared in the Kingdom. This area caused havoc for transport services, not to mention anyone entering it normally not coming out of there unscathed. In this world, there are people who have been gifted with special abilities, known as "Grisha", and the main character of the tale Alina (Jessie Mei Li) could be the saviour the Kingdom has been waiting for to finally rid the world of "The Fold".
On her first expedition across the black void, Alina shows potential as one of the most powerful Grisha the world has ever seen - her powers lying dormant all of this time. Once discovered, she is shipped off to the capital, Os Alta, leaving her best friend Mal (Archie Renaux) behind. In the capital, Alina must show how her newfound powers can save humanity, all while under the watchful eye of General Kirigan (Ben Barnes).
There are four different plots continuing simultaneously throughout 'Shadow and Bone', which keeps the momentum going, albeit in nearly too quick of a fashion. While the series lacks some pacing issues, with some episodes overstuffed with too many happenings, on the whole, it's a rather enjoyable adventure to see unfold.
The first plot point concentrates on Alina as she gets to grips with everything in the capital; the second follows Mal as he attempts to get back in touch with Alina; while the third follows a band of three tearaways Kaz (Freddy Carter), Jesper (Kit Young), and Inej (Amita Suman), who are hired to locate this new saviour and bring her in for a huge payout. Irish actor Danielle Galligan carries the fourth storyline as Nina Zenik, a Grisha woman who is captured and sent off on a ship.
With such a diverse cast (and writing team) at hand, Netflix has hit the nail on the head in terms of finding the best talent to play and write these characters - there's not a questionable performance amongst them.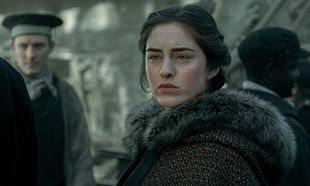 In recent memory, the quality of Netflix's fantasy TV series and young adult series genres has suffered quite dramatically. Following on from that mishmash/appalling 'The Chilling Adventures of Sabrina' season four ending, Netflix then released a couple of new YA series they hoped would fill that fantasy gap. 'Fate: The Winx Saga' failed to light our fire (but will be back for a second season, and it's filmed in Ireland, so it's good in that aspect); while 'The Irregulars' lacked any fun or originality.
Maybe it's because we already have a stale taste in our mouths from their recent releases, but 'Shadow and Bone' feels leaps and bounds above these titles. Everything from the set design, to the characters' costumes, and the CGI effects all feel like they've been well-thought-out and executed to a vastly superior degree.
If you consider yourself a fantasy fan, what Netflix offers up here should tick all of your boxes. Magic, action, impending doom, romance, as well as a cliffhanger which sets up the inevitable season two - it's all there. When it comes down to it, 'Shadow and Bone' is just a really fun adventure that doesn't take itself too seriously, and is expertly cast, ensuring that viewers enjoy the ride as much as the characters seem to.
It goes to show you what calibre of content Netflix can produce with the right actors, directors, a tongue-in-cheek script, and a little bit of money behind it. We can't wait for season two, and the continuation of an exciting new Netflix franchise.
'Shadow and Bone' season one arrives on Netflix on April 23.