'Self Made' is a dramatisation of the real-life story of America's first ever self made female millionaire from the 20th century. Like any rags to riches story, Madam Sarah C.J. Walker (played by Octavia Spencer) created her empire by standing up for herself, and not taking no as an answer. Yes, it sounds cliche, but hey, look where it got her.
Throughout the four episodes of the limited Netflix series, we see Sarah's journey from small-town washerwoman in St. Louis to running her own empire in Indianapolis. When we first meet her, she has been the victim of an awful marriage with her husband, who up and left because of her patchy hair (we presume there were other reasons, or at least we hope there were).
Discovered by Addie Monroe, played by Carmen Ejogo ('Selma'), a lighter-skinned, more put-together and younger woman, they strike a deal whereby Sarah does her laundry in exchange for using Addie's miracle hair-growth formula. The secret formula works, but their relationship falls apart however, after Addie makes it clear that she doesn't want Sarah to sell her popular hair product. She feels that Sarah is not the right fit for her brand, which it spurs the washerwoman on to create a hair-growth formula of her own.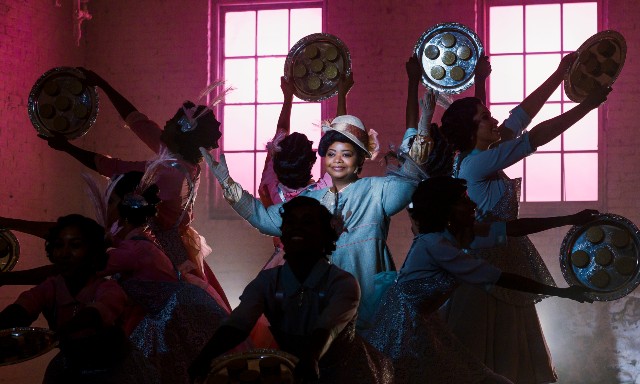 A story all to do with hair, beauty, and one woman's fight to be successful, 'Self Made' is a humbling watch that really makes you root for Sarah to be that successful woman she strives to be. It's a story of one woman's journey to the top. Spencer's Sarah just oozes strong, independent woman vibes.
Octavia Spencer is an actress who can turn her hand at any role thrown her way, and she shines in the lead role here. Tiffany Haddish ('Girls Trip', 'Like A Boss') also pops up throughout the series, playing her daughter Leila; while Blair Underwood ('Deep Impact', 'Dear White People') plays her husband C.J. Walker.
Walker is an interesting character to make note of, as during this time it was unheard of a woman, let alone a black woman, to run her own business - and a successful one at that. His character deals with issues surrounding his masculinity, and his father Cleophus - played by Garrett Morris ('2 Broke Girls') - throws this statement in his face: "Never get your money where you get your honey".
The executive producer and director of some of the episodes is Kasi Lemmons has made this turn of the century drama into something that has elements of modern-day realness also present. The soundtrack of the series is one particular creative choice to note, as it features modern pop and indie songs from the likes of Santigold, and even a different take on 'Seven Nation Army' by The White Stripes. Given that the characters speak similar to ourselves nowadays, and not in an old-fashioned way, the music works well in cementing that nod to modern-day female-empowered movements that we've lived through.
With just four episodes in the limited series, you'll fly through the episodes in no time. It's an entertaining watch, especially if you're looking to take notes on how to start your own multi-million empire (copy someone else's idea).
The 'Self Made' limited series is available to stream on Netflix from Friday, March 20.