Netflix has landed yet another new show on us and have cleverly called it 'Sex Education' and made Gillian Anderson a lead ensuring interest couldn't help be piqued. You will be happy to know then that it's worth investigating.
The coming-of-awkward-age dramedy also stars Asa Butterfield ('Ender's Game', 'Hugo') as Otis Milburn, a socially awkward high school virgin who lives with his mother, a sex therapist (Anderson). Surrounded by manuals, videos and tediously open conversations about sex, Otis is a reluctant expert on the subject. When his home life is revealed at school, resident aloof and whip-smart bad girl Maeve realises there is an opportunity to cash in on with Otis's unwelcome knowledge. Otis soon becomes the resident sex therapist of the school helping his fellow students with their often weird and wonderful problems as each episode introduces a different teen couple struggling with a sexual issue.
It's a great premise because let's face it, whether you are going through it or far beyond it, everyone remembers the awkward teen years and no matter what the generation, many of the problems are the same.
The characters of 'Sex Education' are well-written and while at first they may seem to fall into classic teenage tropes, these are cleverly subverted with a endearing depth to each of them emerging. Butterfield and Anderson are perfectly cast but it's Otis's best friend Eric (Ncuti Gatwa) that steals every scene with ease. Gatwa's range of facial expressions can convey just about any emotion and he can evoke a hearty laugh with just one look. A joy to watch.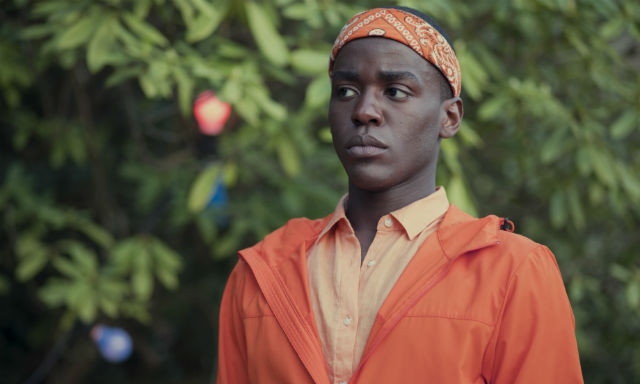 Emma Mackey is also great as Maeve, a character that looks straight out of 'Skins' while Connor Swindells as class bully Adam, and Kedar Williams-Stirling are also well cast.
'Sex Education' is funny but doesn't rely (too much) on cheap laughs for humour, which let's face it - considering the topic - it easily could. This is down to the talents of the show's creator and writer Laurie Nunn, as well as director Ben Taylor, who also directs the fantastic 'Catastrophe'.
Like Netflix's big hit last year 'The End of the F***ing World' - 'Sex Education' looks like it's set in some obscure time period with the fashion choices and decor. I swear I thought it was the 1970's until one of the characters mentioned Pornhub. Yes, that is the trend but not every teenager goes to some kind of Hogwarts for Hipsters like the show would you have you believe. Aesthetically though, I'll admit, it does look good and the music choices throughout are spot on.
'Sex Education' also isn't afraid to give a frank look at more serious topics like abortion and has been praised by experts for how they handled it. Overall, its honest take on sex and the insecurities and oddities that can go with it is a refreshing approach to the well-worn path of the coming-of-age story. Hopefully the education will continue for seasons to come.
'Sex Education' is available to stream on Netflix now.