Reboots and revivals are a dime a dozen in TV these days and as exciting as it can be for fans of the original shows, more often than not there's a worry that it will just walk all over the nice warm and nostalgic memories we have from watching the first time around. Thankfully, that is not the case with the 'Chilling Adventures of Sabrina' (or 'Brina', as her friends insist on calling her).
The Netflix reboot is a different beast entirely from the saccharine 'Sabrina the Teenage Witch' of the nineties/early noughties and takes its cue more from the likes of 'Buffy the Vampire Slayer', 'The Craft' and most recently, 'Riverdale', (of which crossovers occur). Darker forces are at play throughout and the show's not afraid to give a few scares or get a bit gory, while morality certainly isn't delivered in the warm and fuzzy 'after-school special' style of Melissa Joan Hart's 90s incarnation.
This version of Sabrina takes much more influence from the comic book series by Archie Horror, an imprint of Archie Comics. It's written by Roberto Aguirre-Sacasa, who also serves as showrunner, while 'Mad Men''s Kiernan Shipka steps into the role of the famous teenage witch. The familiar framework of the original is still there but the show manages to bring far more depth to the much-loved characters, even a non-talking Salem seems to serve more of a purpose. Sabrina still lives with her aunts Hilda and Zelda, with Lucy Davis and Miranda Otto stepping up to very much make these roles their own in what makes for a very entertaining co-dependent relationship.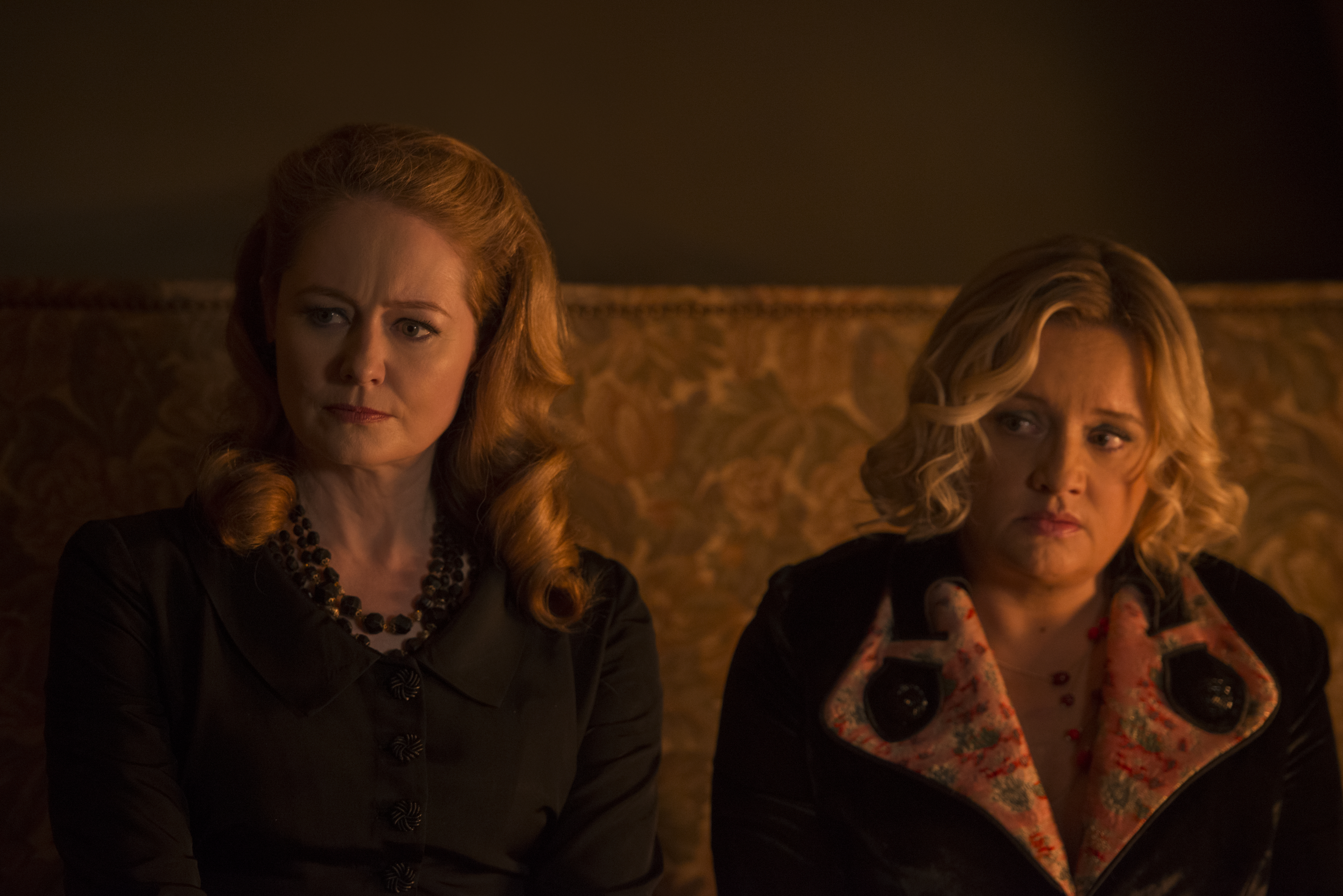 We also have Ambrose (Chance Perdomo), Sabrina's warlock cousin, who serves as a sort of guidance counsellor to Sabrina as well as being a pretty suave dude in his own right. He's on house arrest with the Spellmans for 75 years though, so naturally that does take its toll. Sabrina's friends are also a huge part of her life and her relationship with Harvey Kinkle is frankly adorable, while Michelle Gomez manages to steal every scene as Mrs Wardell/Madam Satan.
Never mind all that though, it's the magic we're here for, but Sabrina doesn't concern herself with any handy little tricks like zapping her fingers to get dressed quickly like her predecessor; it's real power she craves. The opening episode sees her struggle to choose between her mortal life or attending the Academy for Unseen Arts (Witch Hogwarts, essentially), a decision which leads to a trial that in some ways, sets up the rest of the season, but also goes on far too long. It's a minor complaint though and not one to put you off sticking with the show.
It's about half way through this first season though that the 'Chilling Adventures of Sabrina' really starts to come into its own, as the show embraces a slightly more monster-of-the-week format in the fantastic 'Dreams of a Witch House' while the following episode sees Sabrina take on an exorcism, very much paying homage to the 1973 horror flick too.
The show makes a solid effort at diversity, both in terms of race and sexuality, but does so in such a natural, unassuming way, it feel slightly unnecessary to even mention. Its take on feminism and observations about women with power seem a bit more laboured at times and a concentrated nod to the current climate, but look, heavy-handed or not, we're still here for it.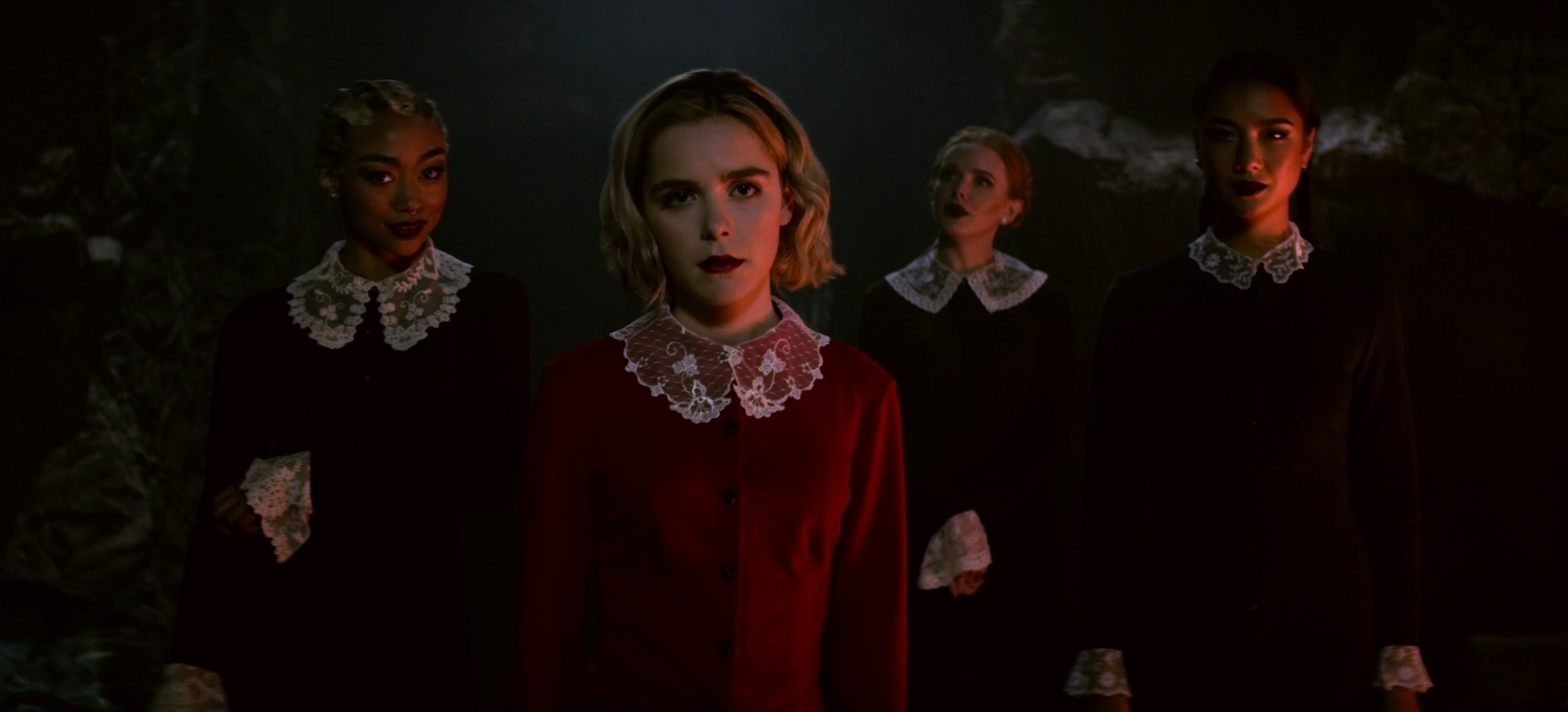 Sabrina is of course the good guy but they're not afraid to show her make a few bad choices, and willingly embrace her dark side at times (a spell involving spiders in episode one proves that early on). Amidst all the demons and dark arts though, the show still has time to have a bit of fun, with aunt Zelda exasperatingly muttering at one point "Spare me from the drama of a teenage witch". It's this side of it you would hope to see embraced more as at times it seems a bit tonally all over the place, which was never the case with the likes of 'Buffy the Vampire Slayer', a show where we always knew when it was the time to be scared and when it was the time to laugh.
Still, 'Chilling Adventures of Sabrina' does enough to prove that reboots - in the right hands - can pay service to the original while paving their own way. Visually impressive, Netflix's high production values are there throughout and the almost dream-like quality to the cinematography fits perfectly in the aesthetic of the show. As well as that, there really are some great performances in there, with no character seeming superfluous and all allowed to develop in their own right throughout the season.
It  may get off to a slow-start but it's when Sabrina really starts to embrace her inner badass that things step up a gear, leaving the options endless for Sabrina's adventures in its second outing, which is reportedly on the way.
We'll be back for more - but for the love of Satan - please stop calling her 'Brina.