'The One' is set in the not-too-distant future, in a world where we've all gone mad for the latest technology which matches us with our one true love.
The One is the global company with its headquarters in London, which was founded by Rebecca Webb (played by Hannah Ware, the sister of pop star Jessie Ware FYI). Rebecca and her business partner/friend James (Dimitri Leonidas) discovered a way to match an individual with their soulmate by analysing a sample of their DNA - one simple strand of hair will do it. Through her backstory, which is told over the series, we discover how Rebecca became the top dog of the biggest company in the world - every lie, deceit, and foul play that she was involved in.
The beginning of the series sees a man's body discovered at the bottom of the river Thames, which triggers a police investigation into his cause of death. Rebecca used to be his housemate, and so becomes a person of interest. However, now that she has become one of the highest-profile CEOs in the world, she's hired quite a brutal team around her to ensure her privacy is protected - watch out for Cavan actor Diarmaid Murtagh too, who plays her steely bodyguard, Connor. She can dig up dirt on someone at the touch of a button, which leads to some pretty interesting storylines play out.
'The One' isn't a "whodunnit" necessarily, as a few episodes in we discover what happened to the dead body. It's more of a chronicle of one woman's rise to power, depicting all of the various ways in which she managed to be in the driving seat. But will there also be a record of her fall?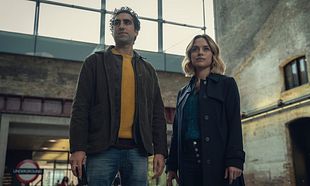 An unlikeable character, Rebecca's personality traits are mirrored by her phenomenal supporting cast who are living in a world dealing with the fallout of her creation. We meet a happily married couple where one of them secretly takes the test, while in another relationship there are skeletons in the closet of one woman's new match. All of the characters are in some way linked back to Rebecca, which plays out rather satisfyingly to her advantage. She really is the puppet master of the series - leading to some thrills that keep the momentum of the series going.
It's funny that 'The One' should be released on Netflix, just weeks after Amazon Prime debuted their 'Soulmates' anthology series, based pretty much around the same topic of finding your soulmate through technology. It would be a disservice to compare one series off of the other, but there are obvious similarities which both touch on: the questioning of relationships, how people rely on technology to determine how happy one is, and how big of a role "love" plays in each of our lives.
A decent watch if you are looking for a drama series with a distinctive twist, all eight episodes of 'The One' arrives on Netflix on March 12.