Of all the sporting personalities to get a big-budget series, Mike Tyson makes the most sense as his life and career was already full of Hollywood drama.
At his peak, Mike Tyson had a cultural notoriety on a par with other famous Michaels like Jordan and Jackson, and 'Mike' weaves in Mike Tyson the superstar along with Mike Tyson the asshole.
The series opens with a flashforward of his infamous bout with Evander Holyfield in 1997, and this hook
'Mike' comes to us from Steven Rogers who wrote the Oscar-winning drama 'I, Tonya' in 2017, and if you enjoyed how that film explored the seedy underbelly of 90s American culture, you will find a lot to like here.
Craig Gillespie directed 'I, Tonya', and directed 4 of the 5 episodes of 'Mike' made available to critics, and the Gillespie and Rogers are an obvious match for each other's sensibilities.
The pair have a Scott Alexander and Larry Karaszewski ('Ed Wood,' 'The People Versus Larry Flynt', the OJ Simpson season of 'American Crime Story') tendency to put cult or strange cultural figures under the microscope, but with a more flippant attitude.
Whereas Alexander and Karaszewski have a habit of making strange and kooky real-life figures sympathetic, Gillespie and Rogers are more interested in treating the subjects in a glib fashion.
Earlier this year, Gillespie's brash style of directing worked well in a story like 'Pam and Tommy', but in a story with darker undercurrents like Mike Tyson's story, the tone undermines the very serious story it is trying to tell.
It would be lazy to compare 'Mike' to 'I, Tonya', but they share a lot of similarities, most notably an incredible lead performance and the flippant tone.
Trevante Rhodes is best known for his role as the adult Chiron in 'Moonlight', and the actor gives a killer performance here as one of the most controversial figures in sports.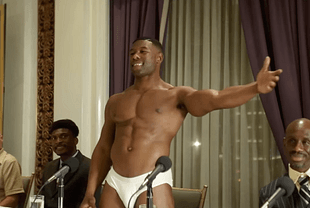 For people who weren't alive or tuned into boxing at the height of Tyson's fame, you don't really walk away from the program understanding just how explosive of a person Tyson was and how he became a sporting icon.
'Mike' gets the weakest of recommendations from us, and that is all because of Rhodes' performance.
Rhodes vanishes into the role, and perfectly embodies Tyson in and out of the ring.
We see Rhodes as Tyson at the height of his fame, and Rhodes has supernatural charisma that shines off the screen.
Like 'I, Tonya', there is an explosive lead performance that the project doesn't really deserve.
'Mike' is also similar to 'I, Tonya' as it uses the framing device to question the audience why are they so interested in his story, but fails to connect the dots of what caused the culture to become so fascinated with the sporting figure to begin with.
'Mike' starts to fall apart on closer examination because it has all the depth and substance of a Wikipedia page.
Earlier this year, 'Pistol' smartly used news footage and told side stories that fleshed out just how big the Sex Pistols were in 70s Britain, and there was a missed opportunity here to explore the role Tyson played in 80s and 90s culture.
Being one of the most scrutinised figures in the history of sport, there have been plenty of documentaries and books about Tyson, and 'Mike' only really adds the novelty of seeing a great actor transform into Tyson.
The 2008 documentary 'Tyson' is the last word as far as depictions of Tyson on screen go, and at least in the episodes provided to critics, the dramatisation of his story doesn't come anywhere close to cracking the Tyson enigma.
The show's tagline is "You may know Tyson, but do you know Mike?" and ultimately, we come away not having that question answered.