Taking place over the course of 10 days, 'Them' on Amazon Prime documents the story of an African-American family who move into a predominantly white neighbourhood in LA during the 1950s.
Due to troubles down in North Carolina, the Emory family decide to head to the bright lights of Los Angeles during the period known as The Great Migration. A fresh start, if you will, which many families did during this time in America. Made up of husband and wife Henry (Ashley Thomas) and Lucky (Deborah Ayorinde), they and their two daughters Ruby (Shahadi Wright Joseph) and Gracie (Melody Hurd) move to a pristine neighbourhood where everywhere they go they have to endure the stares and eventual bullying and violence against them, due to the colour of their skin. Betty (Alison Pill) is the head honcho of this white supremacist area of East Compton, and she won't rest until this family has left her immaculate street.
To say that 'Them' is an uncomfortable watch is an understatement. Never, ever, has this reviewer raised their hands, covered their eyes, and groaned at the inevitable horror that was about to unfold before them as much as watching this series. And that means that the series has done its job right. What we see unfold is sadistic, gruesome, and stuffed with horror from beginning to end, which is why it should be warranted as the most complete horror anthology series ever created.
Sure, the comparisons to 'Us', 'Lovecraft Country', and 'American Horror Story' will come (especially with Shahadi Wright Joseph having previously appeared in 'Us', and Alison Pill in 'AHS: Coven'), but this is a completely different ball game. With white privilege at the forefront, we witness the most vilest of racism against a family who are just trying to get by like everyone else. Moving to a new neighbourhood is hard enough without having a constant fear for your family hanging over you too.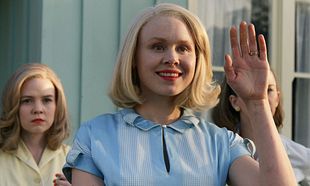 And yet, this is just the surface. 'Them' is a 10 episode series that is essentially split into two parts. The first few episodes are dedicated to learning about the Emory family - how does their past shape their current selves? And how (or will they) manage to fit into this uncomfortable new living arrangement? The latter episodes document their inescapable fall, as the stress and anxiety of this new life takes its toll on each family member.
There is an element of supernatural at play here, but the real horror, as you would imagine, comes from the white cast. Alison Pill's Betty is one of the most heinous characters to ever appear on our TV screens, but she is just one cog in the "real horror" wheel. She and the white characters serve as reminders of the past, present, and future of what white supremacy looks like. Briefly on that point, the acting performances - by the whole cast - are stellar all the way through.
A couple of jump scares at the start of the series set the tone, which is later replaced by a foreboding feeling that these characters might never see a happy ending due to the world being the way that it is. The use of different musical songs, pop culture references, and historical knowings are woven very cleverly into the storyline, creating a chilling series that will keep you hooked from beginning to the very end. Unlike other horror anthology series such as Ryan Murphy's 'American Horror Story' or Netflix's 'The Haunting of' series, the steam never peter's out here.
You might not have heard of creator and writer Little Marvin before now, but he is certainly a name for you to remember in the future. This is the just the first entry in his horror anthology series, which is expected to feature a new cast, eras, and topics in future instalments.
Watch 'Them' on Amazon Prime, horror fans - you won't regret it.
'Them' begins streaming on Amazon Prime Friday, April 9.