We all know what the Irish summer is like - so we've rounded up the biggest TV releases for you to catch up on when the weather turns for the worst.
If you're looking for some brand new and returning TV series to tune into this summer of 2022, we've got you covered.
'Conversations with Friends' | RTÉ One from May 18
The latest Sally Rooney production arrives just in time for the summer months, and we can already hear the 'Liveline' listeners calling up Joe to voice their dismay at the "schmut" seen on RTÉ One on Wednesday evenings. Joe Alwyn, Jemima Kirke, Sasha Lane and Alison Oliver star in the compelling drama all revolving around relationships.
'RuPaul's Drag Race: All Stars' Season Seven | WOW Presents Plus from May 20
Guess who's back in the werk room? Season seven of 'All Stars' sees a collection of eight previous winners return to the competition in order to try and bag themselves yet another win (this time $200,000) and snatch that coveted crown all over again. As always, 'All Stars' is anyone's game, and no doubt RuPaul has a devilish twist in store for our returning Queens.
'The Flight Attendant' Season Two | Sky Max & NOW from May 26
Kaley Cuoco is back as Cassie Bowden, a not-all-together flight who woke up next to a murdered body during season one. This time around, the former alcoholic is living her best sober life in Los Angeles while also moonlighting in her new role as a CIA asset. It looks like the Emmy-nominated star will get up to plenty more mayhem during the new season - and it appears that there might be a doppelgänger in her midst.
'Stranger Things' Season Four | Netflix on May 27 & July 1
The Netflix tentpole is finally back! Rumoured to have been one of the most expensive TV seasons ever made the fourth season of the teenage fantasy/sci-fi will be split into two separate parts this summer, each episode expected to be extra-long to make up for the season split. There are three separate yet intertwined stories continuing this time around, plus there's a terrifying new monster from The Upside Down in our youngsters' midst.
'Obi-Wan Kenobi' | Disney+ from May 27
Oh, Obi-Wan, what did we ever do without you all these years? The fan-favourite Jedi Master returns to the Star Wars franchise for one final (?) time in his own Disney+ series. Set ten years after Anakin Skywalker turned into Darth Vadar in 'Revenge of the Sith', Ewan McGregor and Hayden Christensen reprise their roles as the iconic characters from that galaxy far, far away.
'Pistol' | Disney+ from May 31
Music fans, this one's for you. The limited series is based on Steve Jones' memoir 'Lonely Boy: Tales from a Sex Pistol' which chronicles the timeless punk band's start-up in the music industry. The Danny Boyle-directed production promises to be a hilarious yet heart-breaking look at just three years in the lives of the historic band. Maisie Williams ('Game of Thrones'), Dylan Llewellyn ('Derry Girls') and Thomas Brodie-Sangster ('The Queen's Gambit') star.
'The Boys' Season Three | Prime Video from June 3
Easily one of the most highly-anticipated series of the entire year, get ready for 'The Boys' to unleash the mother of all seasons this time around. We've seen nearly everything from the egotistical Supes so far, but expect season three to deliver even more fu**ed up happenings. There's a load of new stars joining the cast for season three of fresh debauchery, including Jensen Ackles as Soldier Boy, Nick Wechsler as Blue Hawk, Sean Patrick Flannery as Gunpowder and Laurie Holden as Crimson Countess.
'Love Island' Season Eight | Virgin Media One June 6 TBC
Let's face facts, people: whether it's lashing rain outside or scorching the rocks off, you're probably going to be watching 'Love Island' either way, right? At the time of writing, we still don't have a concrete launch date for the next season of the reality dating show, but June 6 is the unconfirmed-by-ITV date in question. Will you be tuning in or turning off this year?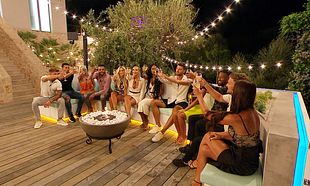 'Ms. Marvel' | Disney+ from June 8
The seventh Marvel series on Disney+ takes a slightly different direction than what we've seen so far - it's more kid-friendly. Well, not that the MCU hasn't been consistently PG-12 thus far, but this series focuses on a brand new teenage superhero, Kamala Khan. A huge Captain Marvel fan, what happens when the teen gets her hands on some cosmic powers?
'The Umbrella Academy' Season Three | Netflix from June 22
The most successful Netflix superhero series barrels ahead for this third season, this time around spinning the concept of saving the world on its head. When we last saw the blended family, they had accidentally time-jumped into an alternate reality where The Sparrow Academy are the world-saving superheroes of the day. All is fair in love, war, and superpowered family, right? What could possibly go wrong...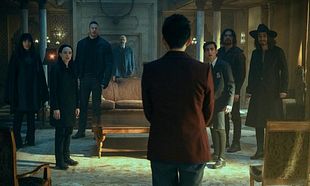 'Loot' | Apple TV+ from June 24
It truly is the age of Maya Rudolph. Since her days on 'SNL' the comedy actor has always been a trusted staple in anything she involves herself in, and this new Apple TV+ comedy seems like it'll be another workplace comedy hit. The series sees her play a woman used to the high life, that is until her husband of 20 years betrays her. Hitting rock bottom, the billionaire goes on a journey of self-discovery by attempting to give back to others.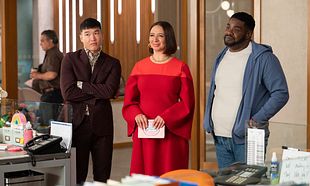 'Westworld' Season Four | Sky Atlantic & NOW from June 27
Yes, the dystopian sci-fi series has a new instalment on the way this June, catapulting us into another dark odyssey which is about to unfold. The stellar cast of Evan Rachel Wood, Jeffrey Wright, Ed Harris, Thandiwe Newton, Tessa Thompson and Aaron Paul return for 'Westworld', which will see the birth of a new form of life on Earth.
'Only Murders in the Building' Season Two | Disney+ from June 28
We love a whodunnit, and we wholeheartedly admit to 'Only Murders in the Building' being one of our favourite releases from last year. With the comedic timings of Steve Martin and Martin Short balanced out by the rational thinking of Selena Gomez, we're looking forward to discovering what twists and turns unfold in the new season, which will be boosted by the star power of Cara Delavigne, Amy Schumer and Shirley MacLaine.
'Better Call Saul' Season Six Part II | Netflix from July 11
The end is nigh for what is arguably Netflix's most successful prequel series. The 'Breaking Bad' spin-off has finally caught up on the original release timeline-wise, which chronicles Jimmy McGill's gradual transition into the morally incorrect Saul Goodman. 'Better Call Saul' will conclude weekly from July 11, with the series finale streaming from August 15.
'Game of Thrones: House of the Dragon' | Sky Atlantic and NOW from August 22
'House of the Dragon' has quite the arduous task ahead of itself - make us all forget that the final season of 'Game of Thrones' ever happened. While some fans might be hesitant in giving this prequel series a chance, we're going to remain optimistic that 'HOTD' will deliver on giving us that authentic 'GOT' experience the final season lacked. With a cast including Matt Smith, Olivia Cooke, Rhys Ifans and Steve Toussant, how bad could it be?
*Bonus Pick* 'Lord of the Rings: The Rings of Power' | Prime Video from September 2
And just in case we get ourselves an "Indian summer" in September (which usually happens as soon as the kids are back to school), then one of the biggest TV series of the year will be here for all your viewing pleasure. Amazon is hoping that 'The Lord of the Rings' prequel series will live up to the hype and win over fans across Middle-earth. Set thousands of years before 'The Hobbit', it'll bring the heroic legends of the fabled Second Age of history to life.