The Emmy nominations saw 20 nods go towards the acclaimed HBO show.
Fresh off of its mega award nomination run last night, some of the cast from season one of the show chatted with Deadline about the future of their characters. And let's just say that 'The White Lotus' franchise could be back for season three - and more.
The HBO show landed itself a total of 20 Emmy nominations, the joint-second-highest lauded series to claim such a feat this year, after HBO's highly-acclaimed other dark comedy series 'Succession'. Apple TV+'s 'Ted Lasso' also landed itself 20 nominations.
Season two is already in the post-production stage, which will see Jennifer Coolidge's fan-favourite character of Tanya McQuoid be the only returning role from season one. Joining the cast in the series' new location of Sicily will be Aubrey Plaza, Tom Hollander, Haley Lu Richardson, Theo James, F. Murray Abraham, Adam DiMarco, Meghann Fahy, Michael Imperioli, Will Sharpe and Leo Woodall.
But is there more to come? Series creator Mike White has thought about ways in which he could bring some of the characters from season one back into 'The White Lotus' fold once again.
Alexandra Daddario and Jake Lacy (who played newlyweds Rachel and Shane Patton) revealed what Mike's idea for them could be: "Shane and I would be on a boat, talking about other people, annoying everyone around us," said Daddario. "Mike's brain is always working. That's the whole thing with his commentary on the world around him: He's always observing."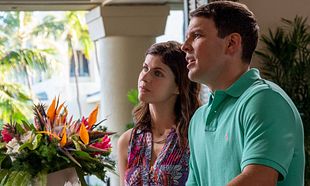 Lacy added: "Mike texted Alex and I with this idea for an episode where the two of us are talking for a half-hour; it's just the banality of rich people on a boat.
"I had hoped that Molly Shannon (who played his meddling mother) and I would be in the back of a shot; the two of us on vacation in another location, chewing out a concierge. It's like, 'That guy is still out there. He's not even on trial; the dude is still going on vacation!'"
Of course, season one was bookended with a death - which turned out to be Murray Bartlett's character Armond, the chaotic hotel manager. Touching on a possible return of his character in some shape or form in the future, Bartlett said: "On the night before we started shooting Mike said, 'Well you know, whoever is the best actor gets a spinoff series.'
"Well, we can always go back in time or come back as a ghost."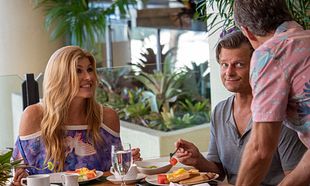 Connie Britton, who took on the role of Nicole Mossbacher, said that Mike White wanted her to be in season two. So, could we see her return for 'The White Lotus' season three? She said: "He wanted me to be in the second season, and there was an idea that I loved for the character.
"Our intention is to do it in the third season. A piece of casting didn't work in the second season and we're hoping to do that in the third season. I would love to see a spinoff on every character in that show."
And finally, on that upcoming season two departure of the elite and uber-rich to Europe, Jennifer Coolidge told the publication that what we're about to see "is even more complicated than the first". She added that it's "a different show". This time around, her character Tanya is travelling with her assistant, Portia, played by Haley Lu Richardson.
Expect a concrete release date for 'The White Lotus' season two in the near future. Watch season one on Sky Atlantic or NOW.