The classic novel by Charles Dickens is being adapted once again. This time the story will be sliced into a six-part series created by writer and directer Steven Knight in an FX and BBC production.
For those unfamiliar with the story first published in 1860, Colman is undertaking the role of the wilting Miss Havisham, stole away in her mansion for years on end after having been jilted at the altar.
Colman has big shoes to fill, especially since there have been countless adaptions already, featuring marvelous portrayals Miss Havisham — shout out Gillian Anderson.
But if the first look released yesterday is anything to go by, we're convinced. Colman has go the chops (and the withered wedding gown) to make this character one of her best performances to date.
Cloaked in a time-worn gown and dusty looking overcoat and adorned with a rotting floral headpiece, Colman is first shown facing off with Fionn Whitehead who plays the orphan Pip.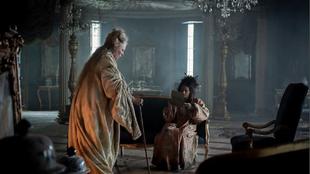 In the second image, her decrepit, crumbling mansion with riches overshadowed by it's decay acts as a backdrop to her conversation with Shalom Brune-Franklin who plays Estella.
The cast also features Ashley Thomas, Johnny Harris, Hayley Squires, Owen McDonnell, Trystan Gravelle, Rudi Dharmalingam and Matt Berry. The air date for the series has not yet been released but with filming underway, we can cross our fingers that we'll see more soon.