In a video with Capital FM, ex-islander Coco has revealed some of the biggest secrets that only those who've been on the show will know about. Until now.
The 'Love Island' villa is an island in both the literal sense and the metaphorical sense; islanders are completely detached from the outside world on the show set in Majorca. The only slight insight they have into what's going on in the "real world" is when the public vote comes into play. But that's it.
There are even rules in place to keep islanders isolated from what's going on beyond the villa walls; they have no communication with anyone other than fellow contestants and new contestants are allegedly limited to what they're allowed to share when they enter the show.
As far as we knew, the outside world was a complete and utter mystery, especially to the 'OG' contestants who'd been in the villa since day dot. However, Casa Amor bombshell Coco has revealed that there are ways in which contestants skirt the rules.
In a video posted to Capital FM's Instagram, Coco shared that islanders can get dripped some information, stating that whenever a new person comes in "everyone wants to know what's going on on the outside world, but we're not allowed to talk about it and if we start we get told off by the voice of god coming from above".
She continues "So we communicate through the phone, so we write little secret messages to each other on the phone under the duvet". So, what exactly are they sharing? Coco claims that the main things people want to know are how many followers they're on or what's in the press about them.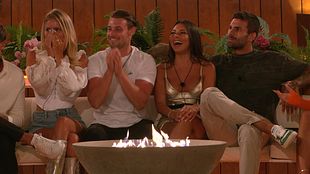 In addition to that interesting secret from inside the villa, Coco explains that, yes, the islanders do eat but that the men and women eat separately and that there are rules, "no talking about storylines relationships, couples anything like that".
She shared that every now and again, producers enforce a kind of gendered sleepover, where they split the men and women up. She explains "we have to pair up with a girl to keep us away from the boys for one night. It's a nice break".
Wow, we didn't expect so much tea in a single Instagram reel. But there you go. The next question is whether or not the secret messages have any influence on the person finding out the outsider information?
Love Island continues tonight at 9pm on Virgin Media Two and Virgin Media Player.