Stand-up comedy is well and truly back. And its not just any auld stand-up comedy that's on our screens either, but a series featuring some of the best Irish and international comedy talent out there.
As the host says herself, when the series was pushed back for the fourth time (due to the world being the way it is), she thought to herself: "Oh, this isn't going to happen". Thankfully, nearly two years since its initial inception, 'The Deirdre O'Kane Show' is hitting our screens - and it is worth the wait.
Ahead of the five episodes releasing on Sky Max and streaming service NOW this weekend, entertainment.ie were invited to a preview of the stand-up show at The Sugar Club earlier this week to get a taste of what to expect from the new series. Beforehand, we also had a chat with the host.
Thankfully, we've finally got with the times, and now there are more homegrown female comics than ever on our little island, a number of them appearing on the show. Viewers tuning in can expect to see the likes of Joanne McNally, Emma Doran, Catherine Bohart and many more besides, as well as O'Kane herself delivering plenty of laughs throughout the series.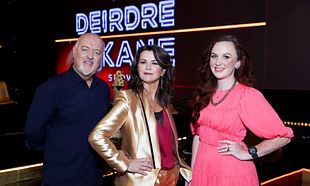 When we asked O'Kane about the line-up of guests for the series, she admitted that: "The list changed six times! Considering we had so many restrictions, who could travel and who couldn't, in the end we were well happy with who we have.
"There's a nice selection of very established, big acts, and a few newbies in there too. And I think that's perfect because everybody's getting a go. You're getting somebody by Martin Angolo who is getting a shot at TV, and it's well-deserved. It's great that there's a nice balance and I'm all for that."
Recording live in Dublin at the Olympia Theatre a number of weeks ago, 'The Deirdre O'Kane Show' has been described as "the Jools Holland for comedy", and the description hits the nail on the head. O'Kane will deliver an opening monologue in each episode, her stand-up guests will do their thing, but there's also a musical element that sets the show apart from other similar comedy formats out there.
Dublin comic Robert Broderick, AKA Abandoman, and his house band will lead what can only be described as an incredible musical performance involving members of the audience becoming part of the show. The iconic Bill Bailey also gets roped into being part of the performance at one point, and it makes for quite the spectacle.
Other acts who will make appearances throughout the series are Neil Delamare, Ardal O'Hanlon, Reginald D Hunter, Des Bishop and Jason Byrne. We left the preview of the show with our stomachs sore from all of the laughter - so here's hoping there are plenty more opportunities for Irish comics on the horizon. If there isn't a series two, we'll be writing a very strongly worded letter, we can tell you that.
'The 'Deirdre O'Kane Show' will air on streaming service NOW and Sky Max at 10 pm from Sunday, October 17. The first episode will feature Bill Bailey along with the hysterical Catherine Bohart.