Well, are you having a good Friday? (Sorry). You should be, as we have a glorious Easter Bank Holiday weekend lying ahead that is solely dedicated to eating chocolate, enjoying the sunshine, oh and Jesus of course, can't forget about that guy.
It may be a weekend for being outdoors but that doesn't mean there still can't be cosy evenings in front of the box.
Here's what's on:
FRIDAY
You can find out the lineups for 'The Graham Norton Show' and 'The Late Late Show' here but if they're not floating your boat, you can also enjoy the classic that is 'Step Brothers' over on Sky One at 9pm.
It stars Will Ferrell and John C. Reilly as Brendan and Dale, two 40-year-old men who have never flown the nest but are thrown together when their long-suffering parents (Mary Steenburgen and Richard Jenkins) get married. Filled with hilarious one-liners and comedy gold, this one is enjoyable every time you watch.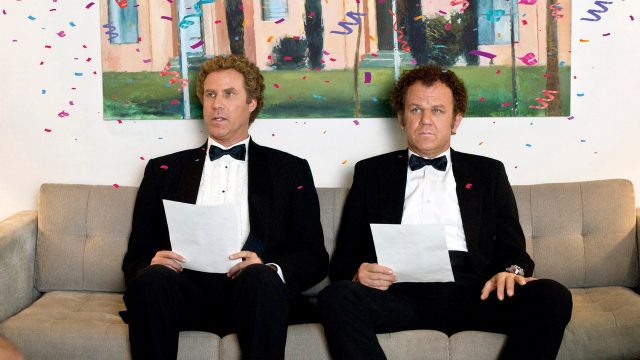 Other TV highlights for today is the SSE Airtricity League Live as Derry City take on Shamrock Rovers on RTÉ2 at 7.30pm, while there's also 'Gogglebox' at 9pm on Channel 4 and 'Have I Got News for You', also at 9pm on BBC One.
SATURDAY
The Importance of Being Oscar
BBC One - 9pm
A star-studded documentary drama providing an account of Oscar Wilde's glittering career before his trial for homosexual crimes and his tragic fall from grace. Wilde enthusiasts and experts such Stephen Fry and Wilde's grandson Merlin Holland provide revelatory accounts of how the writer's own life informed his work, intercut with adaptations of his comedies and books performed by a cast including Freddie Fox, Claire Skinner, Anna Chancellor and James Fleet.
Movies
12 Years a Slave
RTÉ2: 9.10pm
A free black man living in pre-Civil War New York is abducted and sold into slavery. He spends the next 12 years struggling to survive and maintain his dignity in the face of brutal treatment, while clinging to a desperate hope that he can return to his family. Oscar-winning historical drama based on Solomon Northup's autobiographical book, starring Chiwetel Ejiofor, Michael Fassbender, Benedict Cumberbatch and Brad Pitt.
If you fancy something much lighter you can catch the lovely Drew Barrymore and Adam Sandler flick '50 First Dates' over on Virgin Media Two, while the new series of 'Britain's Got Talent' continues on Virgin Media One at 8pm.
SUNDAY
Line of Duty
BBC One: 9pm 
Tensions rise in the OCG following the events at Eastfield. With troubling questions hanging over the identity of the mysterious H, suspicions mount among the AC-12 team. Detective drama, starring Stephen Graham and Martin Compston.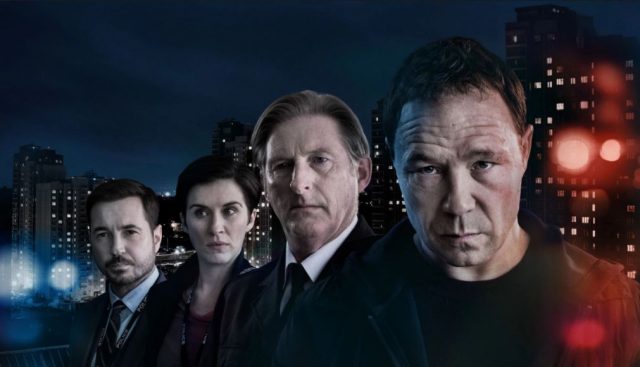 Miriam's Dead Good Adventure
BBC2: 9pm
Part one of two. Miriam Margolyes explores mortality, visiting a home for dementia patients and meeting a scientist in the US who claims that technology will soon provide a cure for the ageing process. She attends a festival in California for people determined to prolong their lives by any means and discovers that laughter may help people to live longer and stay healthier.
The League of Gentlemen - Live Again!
BBC2: 11.30pm
A filmed performance of the comedy group's 2018 live show from London's Eventim Apollo, featuring Mark Gatiss, Steve Pemberton and Reece Shearsmith as popular characters including Papa Lazarou, Edward and Tubbs, and Dr Chinnery. The show picks up where the 2017 Christmas special left off in the depths of the dreaded 'Wife Mine', and also features Mickey and Pauline sharing a bed on stage, an ambitious new production from the Legz Akimbo theatre troupe, and some audience participation with Herr Lipp.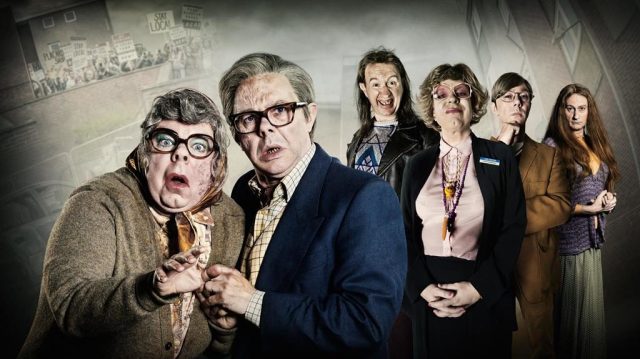 Celebrity SAS: Who Dares Wins for Stand Up to Cancer
Channel 4: 9pm
Ant Middleton organises the recruits into pairs and sets them challenges to test their teamwork - with those who fail to make the grade punished by spending the night outside in a snowhole. The final assignment forces the trainees to put their lives entirely in their partners' hands with a terrifying free-fall abseil.
MOVIES
Me before You
RTÉ2: 9pm
Premiere. A woman hired as a carer for an embittered man who has been paralysed for the past two years following a motorcycle accident. She tries to show him he still has something to live for, but he fears becoming a burden and considers ending his life. Romantic drama based on Jojo Moyes' novel, starring Emilia Clarke, Sam Claflin, Charles Dance and Jenna Coleman.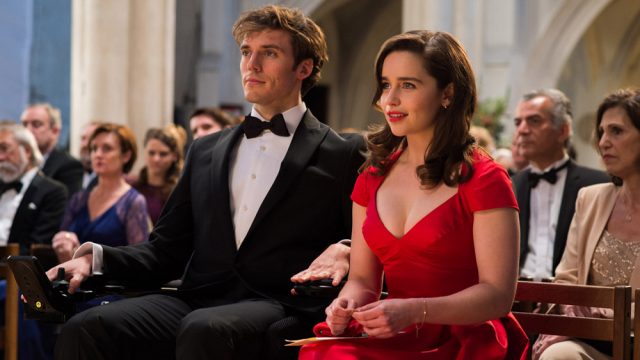 Jason Bourne
RTÉ One: 9.30pm
Premiere. Former government operative Jason Bourne is drawn out of hiding to uncover more truths about his father, while CIA director Robert Dewey orders his head of cyber-security to hunt him down. Action thriller, starring Matt Damon, Tommy Lee Jones, Alicia Vikander and Julia Stiles.
SPORT
Live Heineken Champions Cup
BT Sport 2: 2.30pm
Live: Leinster v Toulouse
Holders Leinster face fellow four-time winners Toulouse in the Heineken Champions Cup semi-finals. The pair have met twice in the competition this season, picking up a win apiece.
MONDAY
Game of Thrones
'Game of Thrones' day! We'll say no more as we don't want to spoil anything. (But don't forget to watch 'The Thrones Show' right after you watch!)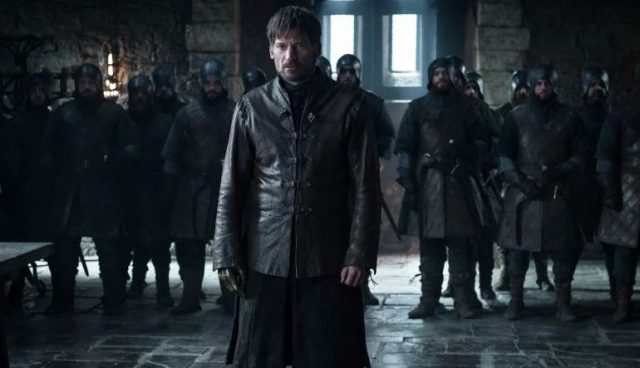 Ups and Downs
BBC One: 9pm
A 22-year-old with Down's syndrome tricks his 18-year-old sister into a road trip to go to an Ash concert in Antrim, with the pair pursued by their panicky mother, who enlists the help of family friend Fergus to track them down. Drama, starring Susan Lynch, James Martin and Rosie Barry.
Two Lukes
RTÉ One: 6.30pm
This documentary tells the story of how the people of Dublin ended up with two very different public sculptures of the Dubliners founder member Luke Kelly on either side of the Liffey.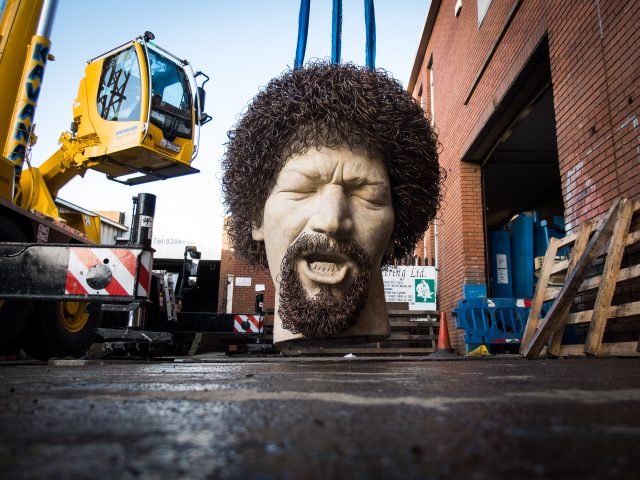 Mark Kermode's Secrets of Cinema
BBC4: 9pm
Disaster Movies.
The critic examines the techniques and conventions of disaster movies, showing how stunts, sound, editing and special effects are used to bring jaw-dropping visions of destruction. Mark also reveals how film-makers rely on recurring story devices, themes and character types to build drama and maintain a sense of jeopardy.
Movies
Sully
Biographical drama concerning the actions of US pilot Chesley 'Sully' Sullenberger, whose January 2009 emergency landing of US Airways Flight 1549 on the Hudson River caught the imagination of the world. Starring Tom Hanks, Aaron Eckhart and Laura Linney, and directed by Clint Eastwood.