In an interview with The Hollywood Reporter, HBO boss Casey Bloys poured cold water on recent rumours that 'The Sopranos' was getting a prequel series.
Despite the beloved show receiving a prequel film in the form of 'The Many Saints Of Newark' last year, series creator David Chase reportedly "has no interest" in reviving the show as a prequel series.
"I don't think David has any interest in revisiting The Sopranos. And I would agree with him", Bloys said.
"It's a perfect series that I don't think needs revisiting, but we'll see what he wants to do next."
Bloys said he is in conversations with series creator David Chase about new projects, but 'The Sopranos' is not one of them.
"Series-wise, I'm not talking to David about it," he said.
"I don't know where they left off, whether there were going to be more movies or what, so to your larger question about a Sopranos series, there's nothing there."
"And with 'The Many Saints Of Newark', there hadn't been any conversations about it," indicating that another film is unlikely.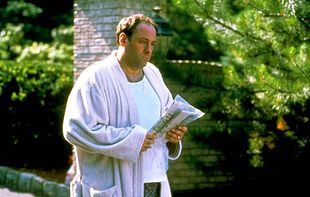 Cloys discussed the future of HBO, which has seen a major boom in critically acclaimed content recently.
The likes of 'Succession' and 'Euphoria' have become major hits under his stewardship, which he views as a repudiation of the notion he merely reboots old shows such as 'Sex and The City'.
"Believe it or not I don't my spend time thinking about what shows to reboot," he remarked.
"I just want to point out that if you look at the last year, between 'Mare of Easttown', 'The White Lotus', 'Succession, 'Insecure', 'Euphoria', 'Gilded Age' and the upcoming 'Winning Time', there are no reboots."
'Girls' was mentioned as possibly receiving a reboot on the channel, which Cloys shot down.
"I would put 'Girls' in with 'Sopranos' and 'Six Feet Under' as not something I'm thinking about bringing back," he stated.
'The Sopranos' ended its historic run in 2007 after 86 episodes, with the ending going down as one of the most famous in television history.
The show has seen a resurgence online during the Covid-19 pandemic, and while 'The Many Saints Of Newark' wasn't the box office hit that was expected, the film was reportedly a major hit on HBO's streaming service HBO Max.
Fans were treated to an update of the show's iconic opening sequence at last weekend's Superbowl, with the credits sequence given a 2022 update in an ad for Chevrolet.