'Derry Girls' has been back on our screens for season three for 4 weeks now and it's safe to say, the show is as lovable as ever.
We've had the girls' GSCE results, a cheating scandal between Ma Mary and a literature-loving plumber, a (potential) killer on a train, and last Tuesday, an onscreen romance that we won't spoil for those who haven't seen it yet.
We've had some deadly cameos from Liam Neeson, Amy Huberman, Michael Fry, Damien Molony, Olwen Fouéré, and Conleth Hill. This season is due to be the last in the 'Derry Girls' series — and we never want it to end.
But for now, we're don't have to think about that, especially with a sneak peek on the go ahead of next week's episode dedicated to Ma Mary and Aunt Sarah.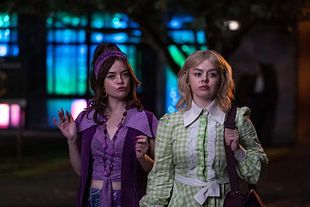 The still from the flashback episode shows the pair as their adolescent selves. Creator Lisa McGee spoke exclusively to Digital Spy about the upcoming episode which will go into life as a young person during The Troubles in Ireland.
She aimed to make a tribute to the women who kept families and communities afloat during the time, "It was mostly women, particularly in Derry, most of the workforce would have been women".
We still expect lots of mischief from these two women as teenagers — the kinds of antics that their daughters get up to which they scold them for. We can't wait.
Just one question though, are we going to see teenage Da Gerry? We hope so.
Watch 'Derry Girls' season three on Channel 4 with a new episode every Tuesday.