Sheridan Smith leads the new Sky Comedy series all about going teetotal.
'Father Ted' alums Pauline McLynn and Ardal O'Hanlon are teaming up for a new Sky Comedy series which is a far cry from all of the misadventures they shared together on Craggy Island many moons ago.
The Irish stars' new comedy series 'Rosie Molloy Gives Up Everything' will debut next month (yes, it's the first of November today), with 'The Royle Family', 'Benidorm' and musical star Sheridan Smith leading the cast as Rosie, the messy titlular character of the sitcom.
Pauline McLynn and Ardal O'Hanlon will be playing Rosie's parents, Win and Conall, who of course played the roles of Mrs. Doyle and Father Dougal McGuire on the Channel 4 sitcom during the '90s. McLynn admitted earlier this year that it was "just a little weird" playing O'Hanlon's other half in this new series, and it might even "scramble" people's heads while watching.
She told The Sun: "It was a weird one for me and Ardal because we're married in this, and that's going to scramble a lot of people's brains.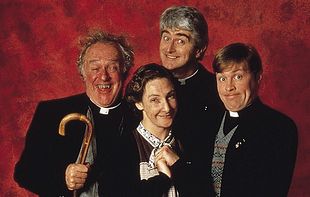 "I'm not saying an intimacy ­co-ordinator was needed. But yes, it was kind of strange because Mrs Doyle was the age I am at now when I started playing her. It's odd that Ardal has reached that point as well. So the fact that the boy is man now and my ­husband is just a little weird."
The synopsis for the series is as follows:
Rosie Molloy (Sheridan Smith) is addicted to everything. Smoking, alcohol, Terry's Chocolate Oranges, Xanax, Adderall, caffeine… the list goes on. After an embarrassing incident at her brother Joey's wedding, she wakes up in hospital and decides to change her life by "giving up everything". But as Rosie juggles her father's ill health, Connor (Ardal O'Hanlon) and the possibility of losing her job, she has the dawning realisation that her addictions are destroying everything - her friendships, her family and her work life. Harder still is the realisation that perhaps it isn't the addictions that are the problem. If Rosie really does give up everything, will she still be Rosie?
'Rosie Molloy Gives Up Everything' begins on Sky Comedy and NOW on December 7.