In what has become one of the most unpredictable season of 'Love Island' ever, Tasha, who just told Billy she was worried about missing out on getting to know him, wants her relationship with Andrew to be official.
Hang on to your branded water bottles, Islanders — Tasha's got a trick up her sleeve. The woman is nothing if not a mystery, and our latest update from inside the villa has revealed that she's planning on asking Andrew to be her fella, officially.
"I've been planning on making Andrew my boyfriend" she admits and she has a whole plan for how to do it (seriously ITV, give these Islanders challenges so they don't keep making up their own).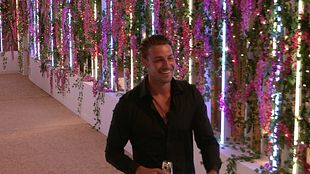 What's her plan? She's making him a treasure hunt. What's the treasure at the end? Her commitment. So good, it could be a RomCom. To pull it off, Tasha has enlisted the help of the other islanders.
We wonder what Andrew is going to make of the fanfare — imagine he set up the exact same scenario to ask Tasha to be his girlfriend, how romantic and serendipitous. Or whatever.
'Love Island' continues tonight at 9pm on Virgin Media Two and Virgin Media Player.