Sally Rooney's novel 'Normal People' has been turned into a 12-part drama series, in a joint effort brought to us from BBC Studios and Hulu. And Irish audiences will be able to tune into the series happenings very soon on RTE.
Award-winning director of 'Room' and 'Frank', Lenny Abrahamson developed the series along with executive producers Ed Guiney and Emma Norton. The series stars relatively unknown actors in Daisy Edgar-Jones and Paul Mescal, as Marianne and Connell, and promises to bring the realness and intensity from Sally Rooney's novel right onto our TV screens.
Ahead of the dramatic series' release, we caught up with the cast and crew to find out all that we could about the process for shooting Ireland's next big TV series. Here's our 'Normal People' interview with Paul Mescal, Daisy Edgar-Jones, Lenny Abrahamson, Ed Guiney, and Emma Norton.
Paul, did you help Daisy with her accent at all? It's very good.
PM: Daisy didn't need any help from me I don't think. She had it from day one.
DEJ: Yes we kind of got away with it - Aisling who plays Denise is from Fermanagh - so she helped, and it flowed okay I think.
Daisy, Marianne is a great character who gets stuck in from episode one and let's her feelings be heard - was that nerve-wracking at all?
DEJ: I love Marianne, and I love her in school because I think she, sort of, doesn't have a wall up and when she wants something she says it. She doesn't worry if it's the correct way to converse or "fit in the norm of society" - she just doesn't care. She just wants to communicate, and I think she does. Which is refreshing, because I wish I could be so forthright in myself. It's also refreshing in their relationship, as they can talk quite honestly without any barriers up. It's only really when they get a bit older and start to grow up that they start to miss each-other a little bit more.
In terms of Marianne and Connell's relationship, the series is "more real than glamorous", especially when compared to other teen dramas in the UK or the States.
PM: Yeah, I think if we went more glamorous it would have done the book a massive disservice. And I don't think that would have ever happened with Lenny and the crew involved in the series.
DEJ: I love the kind of wonderful awkwardness between them that first time, as it's an accurate depiction of what that actually is like. It's just nice to see two "normal people" - to use the phrase.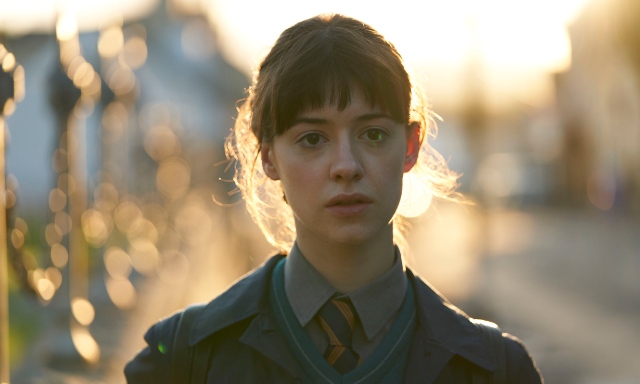 Was Sally Rooney on hand if you guys ever had any questions about your characters?
PM: The power that I saw from Sally was that she was able to hand over her scripts in a way that we would probably never be able to do as we'd be too protective of our work, and be able to hand them over to Lenny and the crew. And in terms of our characters, it was difficult to have any questions for her really, as the book is so thorough that there is literally a mind map for each character. I remember I met her for coffee before we started filming and she was like, you shouldn't have many questions because they're all in the book. I was basically just going to her to ask for her blessing to play Connell.
Are you two ready for world domination when the series airs?
*Both start laughing*
DEJ: Well, is there a world to dominate right now? It's so strange to even think about other people watching the series, it really is. Because when we were filming the series it felt like a group of mates having a go at adapting a book. It was so fun. I hope people enjoy it, but you just never know - as long as my mum and dad like it, I'll be fine.
PM: I've never experienced something like this, I guess when I hear people talking about it, it's both terrifying and exciting to contemplate that fact. I'm definitely going to enjoy the lead up to its release this April, as it's crazy times for this show to be coming out. It's going to be a brand new experience, definitely.
We then caught up with director Lenny Abrahamson, and executive producers Ed Guiney and Emma Norton for the remainder of the 'Normal People' interview. 
The series is very intense - there's a lot of moments focussed on their relationship. How did you feel trying to make it as realistic as possible?
LA: It's a big part of the book, and it's a big part of their relationship, their sexual relationship. So it's not something you can either add or subtract to the story - it's a real part of it. What everyone on the team wanted to do was make it feel authentic, tender, and absolutely not voyeuristic or the wrong kind of glossy, but also beautiful. So it's quite the challenge to tick all of those boxes.
The whole series hinges on Paul and Daisy's chemistry on screen - how difficult was it to cast them as the two leads?
EN: We actually found Paul relatively quickly, luckily, as we had been aware of him in the Dublin theatre scene. We watched his casting tape very early on and felt immediately that he embodied exactly what Connell was. Casting Marianne was tougher, and we launched a pretty extensive search across most of the English speaking world to try to find her. As the character is such an extreme person, it was quite hard to cast. But then as soon as we saw Daisy, she seemed to capture all of her - and then the crucial part was putting Daisy and Paul in the same room together. But from the very start, they had an incredible connection and that's what the show hangs on.
How did the process for creating the series for 'Normal People' start? And why did you decide to not turn it into a movie?
EG: We got the book in spring 2018, before it was published and it was only a manuscript. There was intense interest in it and intense competition for it, because 'Conversations With Friends' had obviously been a hit at that stage. We felt that it was strongly suited for television as the story takes place over four or five years, and we thought a longer exploration of that would do the book more of a justice. It was always going to be a piece of television. Very unusually, the BBC only greenlit the show on the basis of Sally's book and Lenny directing it.
As it's set in Ireland, was there any worry that it might not translate well to other audiences?
LA: I think good stuff translates over, no matter what it is. You look at the likes of 'Derry Girls' which is so rooted in where it's from. I suppose our question was how would people feel about accents and just particular detail of culture or language that might be different. We knew we'd be led by Hulu in the States, and they have actually never come back and said, "can you change that word because we don't use it here" - they've been very on board with us wanting to keep it as authentic as we could.
EG: In the work that we're in now, there's so much content out there that audiences have so many choices. In order to make something that actually gets attention, you have to embrace what's different about what you're doing. And because this is so intensely Irish, I think that's a real strength and will bring people towards it rather than away from it. Maybe in a different television environment years ago you had to play to the masses, whereas now you can play to the niches.
And I believe you're all coming back to create 'Conversations With Friends', Sally's first book?
EG: Yes, although it's a close cousin in that it's written by Sally, and the team you're talking to here will be building it and working on it, it's a different story entirely. But we're well advanced in developing that, and hoping to make it as soon as the world allows us to make it. We're really excited to get back working on it, and we had in fact started working on it before 'Normal People'.
In our 'Normal People' interview has whet your appetite for what's to come, be sure to tune into the series when it begins on RTE One Tuesday, April 28 at 10.15pm. If you miss an episode, be sure to catch up via the RTE Player.