There's a thrilling new RTÉ drama series heading to our screens this weekend which is going to have the whole country talking.
'Smother' is a brand new collaboration project between RTÉ, BBC, and TV production company Treasure Entertainment. Starring Dervla Kirwan and many other recognisable Irish actors, here's everything you need to know about the upcoming series which begins this weekend.
So, what's it all about?
Filmed in and around county Clare, the series begins at the 50th birthday party of Val Ahern, where some drama unfolds for the attending party guests, made up mostly of her blended family. Later that night, Val's husband Denis is found dead under mysterious circumstances, and this leads to an investigation into everyone who was in attendance at the birthday party.
Val's three daughters are in distress, particularly Grace, as everyone suddenly becomes the prime suspect in the case. Val is determined to get to the bottom of her husband's cause of death, as she attempts to unearth all of her family's best-kept secrets.
It's all very peculiar... but as the series progresses, we'll begin to know who we are willing to trust, and who we think we know not to.
Who's in it?
A cracking Irish cast is who. First up, Val will be played by Dervla Kirwan, who has starred in everything from 'Ballykissangel', 'Doctor Who', and most recently in Harlan Coben's Netflix series 'The Stranger'. Her late husband Denis will be played by Stuart Graham, known for 'The Fall' and 'Hunger'.
'Can't Cope, Won't Cope' and 'The Hole in the Ground' star Seána Kerslake will play a scene-stealing Grace, while Niamh Walsh from 'The English Game' plays Jenny, and Gemma-Leah Devereux, who played Liza Minnelli in the 'Judy' biopic, will play Anna.
Hilary Rose from 'The Young Offenders' also makes an appearance as Alanna, with Eanna Hardwicke from 'Normal People' as Joe, Lochlann O'Mearáin from 'Finding Joy' as Rory, Hazel Doupe from 'Calm with horses as Ingrid, Conor Mullen from 'Holby City' as Denis' brother Frank, and Ayoola Smart from 'Killing Eve' as Cathy.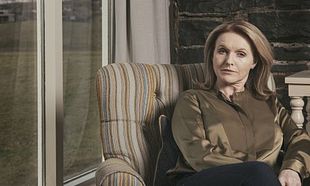 When's it on?
'Smother' begins this Sunday, March 7 on RTÉ One at 9.30 pm. Should you miss an episode, you'll be able to catch up on the RTÉ Player. The series will run for six weeks, with the final airing on April 11.
Anything else I need to know?
With the series being set on the west coast of Ireland, it adds that extra unsettling dimension to the show. As we see cutaways of waves crashing along the jagged Clare shore, the unexpectedness of the weather goes hand-in-hand with the unforeseen nature of 'Smother'.
Dervla Kirwan was on the radio this week promoting the series, teasing what she knows about it "would blow the story out of the water". She said:
It's a good sign for a thriller - it should be complex, it should demand you engaging as a member of the audience. It is a "Whodunnit?", and because it has all of those qualities, it does make it an interesting investment of your time.

Dervla Kirwan via The Ray D'Arcy Show
Here's the trailer.