As anyone might have predicted, the OG Michael Peterson is not a huge fan of the HBO Max drama series - he's not even a fan of the Oscar-winning actor playing him.
Michael Peterson has been played by Colin Firth in HBO Max's dramatisation of 'The Staircase', and the real-life convicted criminal is not that keen on the whole production.
'The Staircase' is a story that seems to be lifted out of a crime/thriller novel, but the real-life story began to play out over 20 years ago in 2001. Following the shockingly brutal and (still) unexplainable death of his wife, Katheleen Peterson, Michael has been on trial, in and out of prison, and is now out of the saga since his 2017 Alford plea. Still, the ordeal continues, as the HBO Max from director Antonio Campos has him talking about the subject all over again.
Variety spoke with Michael Peterson (via telephone) about everything to do with 'The Staircase' miniseries, including his take on Colin Firth's portrayal. Spoiler - he's not that big of a fan.
Asked if the popular actor reached out to him for research on the project, Peterson said: "No, he did not. That was his choice. Whether I would talk to him? I probably would have. I will forever be known as Colin Firth. It could be worse, I suppose. He's not my favourite actor."
So, who should have played him in the series? Let's leave it to him to say: "Get Brad Pitt! But to be fair, I haven't seen his portrayal, but I heard he got [my] voice right and [my] mannerisms. But he didn't capture my energy or my humour."
He also had this zinger for 'The King's Speech' Oscar-winner: "To me, Colin's a great actor but I can't think of any roles that weren't dull as dirt that he's ever played and that's fine. I'm not denigrating him, but I would have thought about talking to him. He said he wanted to do it himself — make his own creature, I thought, 'What are you talking about? I'm the real person. If you want to know what I think and feel, read my book or talk to me'."
Parker Posey, who plays assistant district attorney Freda Black in the series, previously said that Firth "creeped out" the cast of the series "because he was so uncanny" in his portrayal of Peterson.
Peterson also takes aim at Toni Collette for her depiction of Kathleen. He says that Campos "has turned Kathleen into a screaming shrew, the last thing she was". He says this version of his late wife does not represent "the real Kathleen" and she "would be appalled at his portrayal of her".
Michael Peterson's bisexuality is at the forefront of the HBO Max miniseries. The convicted felon calls some of the scenes in the HBO Max series - a series he hasn't seen - as "both wrong and salacious". He writes that his depiction in the eight episodes comes off as "homophobic": "I've heard from many people including my attorney that the sex scenes in the HBO series are both wrong and salacious, including a male-male encounter when I went to Blockbuster's to rent the movie Kathleen and I watched the night she died.
"That's totally false, and the rest of the gratuitous sex in the series is, from what I've also heard, homophobic, as my trial certainly was — and definitely a contributing factor in my conviction.
"That completely fabricated episode with me killing Kathleen is grossly homophobic when she finds pornography on my computer late at night, though the prosecution expert testified that the computer was not accessed after 4 p.m. Creating a false and fictional sexual reason for me to kill her is disgustingly homophobic as well as wrong, as proven in court.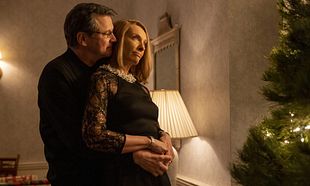 "How could Campos create a scene that was completely disproved in trial testimony? That shows his total disregard for truth, and his denigration of my bisexuality. He invented a reason for killing Kathleen based on my bisexuality. That also maligns Kathleen, who was a kind and understanding person.
And as for the bizarre yet strangely believable "Own Theory" concocted by Peterson's neighbour Larry Pollard, Peterson had this to say on the matter: "When Larry told me about an owl, I thought, 'What in the world?' But then he sent the pictures of the autopsy with the owl talons superimposed over and I thought, 'Oh my god. It's a real possibility'.
"It's a real probability that Kathleen went and put those reindeer outside right before she went to bed. She thinks, 'Let me just go put them out'. So, she runs out. She puts them up and then maybe an owl attacks her. Very conceivable."
Jean-Xavier de Lestrade, the original director of the documentary series on which 'The Staircase' is based, stated that he was not happy with Antonio Campos's take on the story.  
All eight episodes of 'The Staircase' are available on Sky Atlantic and NOW. Watch the original 13-episode docuseries on Netflix.