Ahead of the series' release in January, we were able to catch up with actor Luke Evans as he discusses his role in the new drama miniseries, based on actual events.
ITV series 'The Pembrokeshire Murders' sees Luke Evans ('Beauty and the Beast', 'Dracula Untold') star as Detective Superintendent Steve Wilkins, a real-life man who attempted to track down the Welsh serial killer, John Cooper. Cooper, played in the series by Keith Allen, was eventually caught and charged for a number of hideous crimes, including murder, sexual assault, and robbery. However, the journey Wilkins and his team managed to get themselves embroiled in was anything but straight-forward.
The three-part series was filmed in Wales, days before the whole of the UK went into Lockdown. With it being filmed in Wales, that meant that Welsh native Evans was able to use his normal accent for the first time in a starring role for many years. Here's what he had to say about being part of the series.
On why he felt urged to take part in the series, Evans said: "This is a shocking true story about the worst serial killer that Wales has ever seen. And also it just drew my attention to the amount of work that the police force do behind the scenes. The human impact of what people go through when something like this happens in their community is something else.
"It was shot in an incredible part of Wales and I got to live there and shoot this incredible show with an incredible bunch of Welsh actors, and with my own Welsh accent in many, many, many, years."
On just how far-fetched or crazy the series may seem - it's all true. Evans continues: "Often these stories do feel like they can't be true, they can't be real. But this one has so many twists and turns and it almost feels like many times during the story that the whole thing will go cold once again - the case will go cold."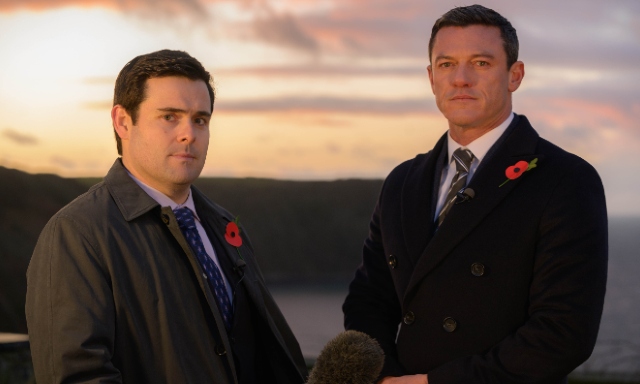 On how he thought the real Steve Wilkins would think of him being played by a Hollywood actor in 'The Pembrokeshire Murders', Evans said: "I don't know - you'll have to ask Steve that question! (Laughs). No, I think he was happy. One thing about Steve is that he is a charming human being. And once you meet Steve, you understand how his team worked all of those hours and months away from their family and friends.
"He's such a good human being, and he brought them together and treated them with respect. And that's why he's a great team leader. He kept their spirits alive when they were all losing faith, and losing hope.
"I've played some great people, and some terrible people in my time, and it's always humbling to play a good one. Steve Wilkins is definitely one of those."
Joining Luke Evans in the cast is Keith Allen ('The Others', 'Marcella') as the man the series is based on, John Cooper; Alexandria Riley ('The End of the F**king World') plays DI Ella Richards; with Owen Teale ('Game of Thrones') and David Fynn ('Undateable').
'The Pembrokeshire Murders' begins on Virgin Media One January 14 at 9pm.